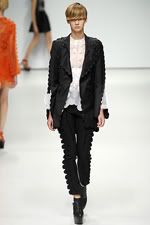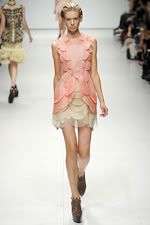 since his now legendary graduate collection a few years ago, many praised the young designer as the new torch bearer for english fashion. the one that would carry on the legacy established by such luminaries such as hardie amies, vivienne westwood, ossie clark, or john galliano. while no one doubted his talents, the curse of being a one trick pony that many young, heralded designers of the past lingered on everyone's collective consciousness. but season after season kane has displayed a maturity well beyond his twenty six years. while there seems to be quite a shift from collection to collection, the one thing that is always present with kane is a determined and individual focus on a specific idea. with this collection kane found inspiration from the sci-fi movie
planet of the apes
. this classic movie from the sixties lead him to research other sci-fi movies of that era such as
voyage to the planet of prehistoric women
and
one million years b.c.
. that translated into
flinstones
inspired animal prints and half circles that were made into everything from dresses to skirts, to tops. when it was attached to a sleeve and the profile of the half disc is more isolated, its easy to see it like bone plates you can find on the fossils of dinosaurs such as a stegasaurus. and somewhere along the way gorrilas made an appearance as two show stopping prints on dresses that is guaranteed massive editorial exposure on all the directional fashion magazines come spring. despite its prehistoric influence, the brazeness of kane's idea, even the insanity of it somehow manages to be modern and not ridiculous. because underneath all what might seem to be pretention, is an earnest goal to challenge himself and social perception of what clothes can be. in this day and age when everything that could be done has already been done multiple times, the courage to step outside the comfortable box normality dictates is kane's greatest contribution. and to be able to do that and present beautiful and extremely well made clothes is inching him closer to hopefully an extremely fruitful and long career.
photo: style.com