THREEASFOUR
threeasfour has always been new york's response to the avant garde designers of europe. their circular based cuts, the american answer to gareth pugh's three dimensional sculptural designs. but in a city that is so rooted in the machine of economics, the three designers that makes up the label presented a collection that also managed to blend their extremely beautiful personal point of view into something surprisingly commercial. designers gabi, adi, and ange managed to accomplish this great task not by drastically changing their direction, but rather by polishing it up. this was evident in the finishing of the garments, even in picture the quality and high standards stood out. every piece appeared to be seamless and fluid. the fabrics draped in a way that didn't add volume and appeared to move like water even when certain pieces were trimmed, it never dragged the clothes down. everything the designers added on to the garments served a purpose. it might appear to be decorative but the panels divided the body and would surely fix the imperfections the customer think they have of their bodies achieved through a mix of brilliant tailoring and draping. for many years even when threeasfour was asfour, many looked at them as a novelty act. designers that show during fashion week not to be taken seriously business wise because there were looked upon as a representative to the new york underground. with this collection however, the designers let the world know that they can deliver a commercially successful collection without compromising their own indentity.



ALEXANDER WANG
while daryl k. was the favorite of the nineties downtown set, the two thousands could possibly belong to alexander wang. since showing his debut collection almost two years ago, the young designer has managed to capture the zeitgeist of today's new york city. he has perfected the nonchalant attitude of downtown but added to it luxurious fabrications, well made pieces that doesn't scream anything remotely ostentatious, and for the first time accesories, more specifically, bags. for the second season in a row, wang worked with his muse and supermodel erin wasson to style his collection. this relationship resulted in clothes paired together in a way that was easy, adaptable to many situations, and carelessly sexy, exactly the way models dress these days. and he managed to do that and at the same time give his customers a plethora of options ranging anywhere from boyfriend style jackets, t-shirts, vests, and slouchy pants, to the tightest jeans and slinkiest dresses. while not everyone can be a 5'11" size two supermodel, there are many women today who's lives are just as impulsive and dynamic and they don't have time nor seem to care how they look but always manages to be the hottest person at the party, even with ripped stockings. and it doesn't hurt if you have a little alexander wang who's got and happens to be on your back.



ALEXANDRE HERCHCOVITCH
in his native country of brazil, designer alexandre herchcovitch is somewat of an oddity. instead of designing bombshell clothes fit for the brazilian supermodel brigade, the designer instead caters for a woman that tends to verge on an avant garde sensibility. this is perhaps the reason why for a few years now, he has been showing his collection not only in sao paulo, but in new york city as well. the latter being better suited to his intellectual and conceptual approach to design. all the usual signatures of herchcovitch was present with this collection: the experimenting with volume, the geometric battle that seems to always be going one between black and bright colours, and what i can only explain as a marni meets yamamoto collage. this doesn't mean that herchcovitch is lacking in his own personal idea, it could very well be as a result of growing up in such a multi-cultural country like brazil that he is inspired to throw in a bunch of references together and interpret it in his own way. even though looking at the collection as a whole might seem to make his point a lot easier to dissect, the problem was that there was no main point carried across. not to say that there weren't any beautiful pieces in this collection, but when a designer is as experimental as alexandre is, it would've helped if he could've been more elucidative.

DAY ONE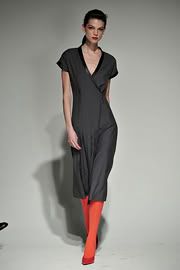 KATY RODRIGUEZ
katy rodriguez claimed that the girl's on the cover of the roxy music albums was the inspiration for the models in her show. that meant bright red lipstick and strong, defined eyes with lots of eyeliner and eyeshadow. a look that drove the drop dead sexiness of the collection straight home. a radical departure from her previous runway presentation last september, rodriguez's main pre-occupation this time was the use of cut and fabric to reveal and accentuate the female form through both slim and voluminous silhouettes. tight body con dresses with built in structure didn't seem out of place besides voluminous dresses. she achieved this by injecting her design with a bolder, graphic appearance. the severe shoulders on some of her pieces were just as strong as the graphic slashes of black on her tent dresses, all paired with red stockings. this collection is definately a stronger more confident effort than last season. a clear indication that rodriguez is a talent to watch and that she could continue to grow and offer something new to new york fashion week.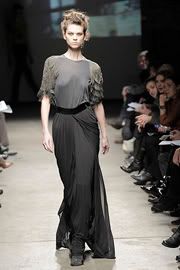 YIGAL AZROUEL
the israeli designer is most known for his soft, feminine clothes with a touch of masculine tailoring. it is what has acquired him a loyal group of customers who look to the israeli designer every season for something to add to their wardrobe. one of his biggest talent is his ability to always make his clothes have just the right amount of leanness that the clothes appear to be especially easy to wear, and also make his clothes appealing to a wider age bracket of women. and after last seasons beach getaway, the designer returned to new york city and came back with clothes that had a little bit more edge. he worked the continuing focus to tailoring in his coats, jackets, trousers, and ingenious darting and pin tucking on dresses that gave the clothes a little bit more attitude. however, its when he softens up that his personal vision is really reflected. dresses and tops seductively trace the outline of the body done in the most unlikely colours like charcoal gray and pea green all the while serving up a healthy dose of glamour, new york city style.




photo: style.com