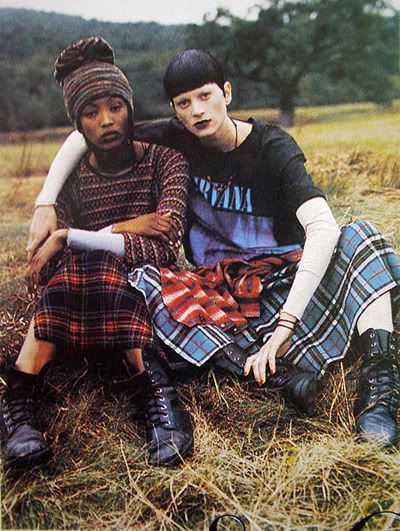 naomi campbell and kristen mcmenamy photographed by steven meisel
there are few collections that perfectly captures the mood of the moment and by doing so directly affects the sociological meaning of clothing. just like dior in the forties and westwood in the seventies, marc jacobs belongs in the company of those who radicalized the idea of fashion. during the excessive opulence of the eighties, designers moved with the time of obvious luxury and display of wealth. haute couture reached its second golden age and the brash aggressiveness of gianni versace was being heralded as the new voice. this continued into the early nineties in the era of supermodels and the birth of a new entity, the celebrity designer. but all that was about to change. not gradually, but in an explosive single season. and its muse was a music movement from seattle, washington whose virility, and unapologetic youthful expression would not only change music, but fashion as well.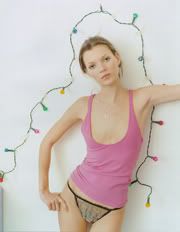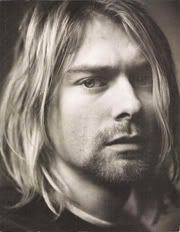 grunge poster girl kate moss by corrine day and grunge's prophet, kurt cobain
our story starts with a young british girl from croydon named kate moss. far removed from the glamazons who reigned the catwalks at that time, kate was a mere 5'7" and weighed a little less than a hundred pounds. her awkward gangliness, wide set eyes, slightly androgynous appearance was a direct contrast to the almost mythical status of the ultra glamorous supermodels that most women couldn't relate to. this made her more tangible and the right muse for the emerging trend of reality based purpose in fashion. her charisma made her a favorite of influential photographers like steven meisel, mario sorrenti, and early in her career, photographer corrine day who shot the young model for the cover of the face magazine in 1990 and launched her career. the success of kate moss brought a radical shift in modelling. kick starting the "waif" trend and causing public outrage, the model being singled out for promoting unhealthy eating disorders among young women. but despite all the protest and public condemnation, the allure of kate won out and that year she was named one of people magazine's fifty most beautiful and became the face of calvin klein. although it was klein and his ad campaigns that featured kate that would propel her to iconic status, that year belonged to marc jacobs. if kate moss was the face of grunge, marc jacobs was it's biggest fan.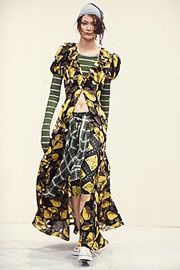 marc jacob's "grunge" collection for perry ellis, spring/summer 1993
marc jacobs was always the darling of the new york fashion world. the new voice that would continue the tradition of american sporstwear. and it was for his spring/summer 1993 collection for perry ellis that he not only continued the tradition of american sportswear, he changed its language completely. american sporstwear was always identified with somewhat of a polished, blue blooded snobbery. the most famous american designers such as bill blass, ralph lauren, or oscar de la renta catered to the upper crust of society. what marc jacobs did was to look at another aspect of american culture, its youth. something that not only is he a part of, but something he is passionately sincere about. something that was not that much different from saint laurent's approach in the sixties. at that time, grunge music was in full swing and ripped jeans, flannel plaids, thermals, doc martens, and long ratted hair was the uniform of teenagers in america. marc wanted to translate the noise of the music into pattern and colour. plaids were made of luxurious silks and custom made converse all stars were made of duchesse satin. to take something that was based on second hand shopping and intentionally made to look thrift by how the show was styled was a groundbreaking idea. an idea that was championed by fashion editors and the influential buyer for bloomingdales, the late kal ruttenstein. although the grunge theme was definately a modern one, it did coincide with the seventies revival going on at that time. while designers at the other end of the spectrum like versace and dolce and gabbana were reinterpreting seventies silhouettes, the clothes marc showed looked like they were from the seventies. but the injection of youthful expression in it made it modern and so contemporary that only a year later, the general mood in fashion changed and designers like calvin klein and prada stripped their collection from all of its artifice and presented silhouettes and clothes that made more sense to real life. a direct influence of grunge and its ideas. while the eighties promoted the idea of in your face status symbol, the idea proposed by marc with his grunge collection was a subdued sense of luxury. providing the owner an intimate connection with the item she purchased. an idea that is still remains one of marc's most definitive trademark. although critically lauded by the press, it failed to connect with the customers at perry ellis and marc jacobs was fired. as a consolation prize however, he won the CFDA awards that year for designer of the year. thirteen years later, grunge, or rather the spirit of it, just like that other musical movement that preceded it, punk, still inspires.