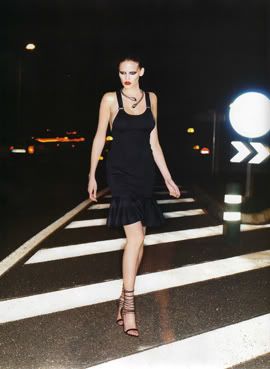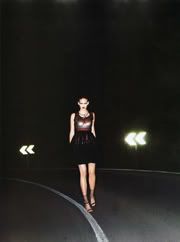 paris vogue: march 2008
photographer: mert and marcus
stylist: carine roitfeld
model: lara stone
lara stone is so fucking hot she might actually unbend me. why hasn't this girl landed a lingerie campaign yet? i mean i love love love behati prinsloo and all, but how did she land a victoria's secret contract and this blonde sex bomb hasn't? well at least carine roitfeld at paris vogue has taken a massive interest on her. plus lara has been on the cover twice and she is basically a monthly fixture on the magazine. and on this one she not only got the cover but she also got not one, but two editorials. i posted this one because it reminded me a lot of helmut newton and there's something really dirty and perverse about his spread that the other editorial didn't have. which doesn't mean i'm a pervert. i just think that any good fashion has a bit of subverted naughtiness. in a perfect world she would be known as the world's sexiest model and not giselle. because i think lara's boobs are so much better looking.