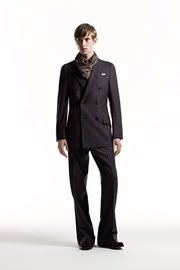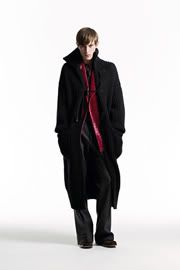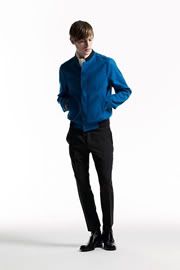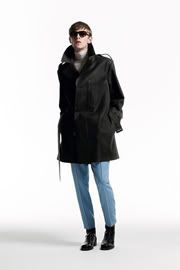 YVES SAINT LAURENT
the legacy that yves saint laurent left in the modern women's wardrobe unfairly overshadows the monsieur's immense impact on today's idea of masculine beauty. saint laurent was after all a style icon in his own right who's personal sense of expression eventually left an indelible mark in popular culture. there are few men today who can command the interest of the world with his own personal statement, be that through fashion or any other avenues. fortunately for the fashion world, stefano pilati, the torch bearer at the house is continuing in the tradition of yves. like saint laurent himself, pilati possesess the sensitivity and an understanding of luxury that manifests itself in the cut of the clothes and with its relaxed richness. a quiet confidence that was expressed through a seven minute video presentation of the collection that showed silhouettes ranging from seventies jet set playboy, to french new wave to italian artisan, pilati managed to harmonize them all. like so many houses in paris experiencing a rebirth of sorts, these designers, pilati among them, has profound respect for the heritage of the house and sees the advancement of the company's future, deeply rooted in the past. to a time when fashion can still propose and offer ideas rather than pirate it off kids from the street. what pilati does is find the dreamlike quality of the past and infuse it with a sense of modernity that makes it covetable to people of all ages. affecting both men that are older, and those same kids that influence the tide of fashion. just like saint laurent himself, stefano has the same sense of humility, although not the same as a double faced cashemere coat, is much more luxurious.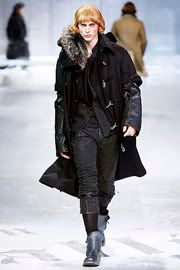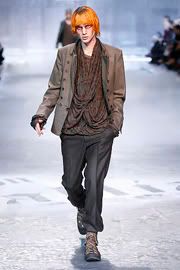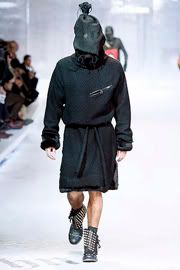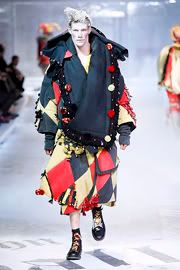 JOHN GALLIANO
the romanticism of john galliano is almost mythology in the vernacular of fashion. his vision for dior has transformed the stuffy bourgeoise of the house into one of the most powerful brands today. influential both commercially and through its creativity. with all the grandeur of galliano's ideas one wonders how he can reinterpret those into the strict formality of menswear. the answer clearly is that he choose not to sacrifice any of it. as in his womenswear collections for his own eponymous label and for dior, galliano acts like a medium and channels his ideas from inspirations that ranges from edgar allan poe to clive baker's hell raiser, to finally a parade of court jesters. as far removed this ideas are from each other, in galliano's hands they manage to dance to the same beat, john acting as the orchestrator of the party. the other similarity of his men's show with his women's is that he is able to send out clothes that verges on costume complete with over the top make-up and in all that madness are clothes that are divinely well made and in the end completely wearable. even if that means paint splattered models walking the runway in nothing else but galliano's ridiculously fast selling underwear.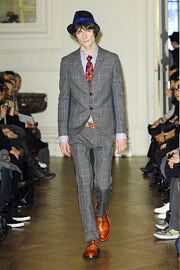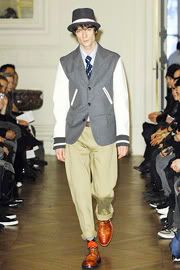 JUNYA WATANABE
the theme of watanabe's show always seems to swing from a pendelum. one side being of traditional western ideas of clothing, and on the other side, the confrontational aspect of it. lately the designer has been toying with ideas from the former. this season it was a sort of mixture between english eccentricities with american preppy sensibilities. those inspirations were manifested into sharper tailoring done in fabrics that had a more american feeling such as plaid and ties with varsity stripes, or something as simple as the red threaded button holes that gave it a distinct utalitarian feel. it was the blazer that resembled a varsity baseball jacket that made the point most clearly and also showed watanabe's sense of humour. this direction is hardly a new territory the designer has explored. his collection last season and the one when he transfored track jackets into tailored pieces made this collection a bit redundant and made one wish for the watanbe that explored the more darker side of western ideas like his infamous taxi driver collection or his interpretation of punk and biker culture.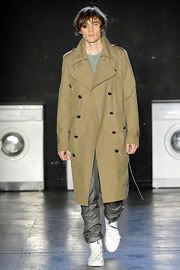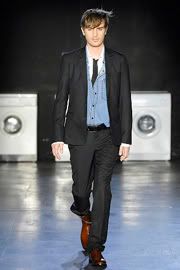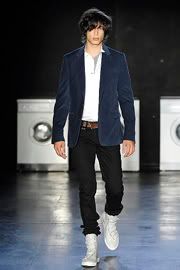 KRIS VAN ASSCHE
for several seasons now, kriss van assche has had a pretty rocky career. when he debuted his first collection he was heralded as one of the new voices in menswear, his talents even earned him the spot to replace the venerable hedi slimane at dior homme. the brand that basically gave young men their own distinctive dress code for the past few years. van assche was a natural choice to succeed slimane, after all he was hedi's assistant for a few years and he himself is a young man who embodies the spirit of the diore homme man. while his career started promising enough, as the seasons progressed, it seemed as if kriss has been trying to prove himself too much as a designer. to correct that problem this season, van assche presented a collection that was all about clothes that he felt most about. clothes that could easily register with the young clientele that his label is catering for. the clothes had an ease and worn-in quality about them that was somewhat unexplored territory for him, but he also showcased his talent as a tailor. something that the fashion world has already known but this time he just didn't show them on his trademark waist coats and shrunken jackets, he also showed strong coats. some done in double breasted wool and some in quilted leather. it is no question that van assche is a talented designer and hopefully he learns to balance his creativity and restraint and develop the confidence he needs in order to progress.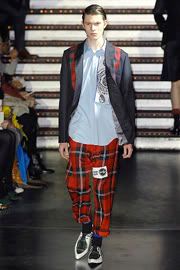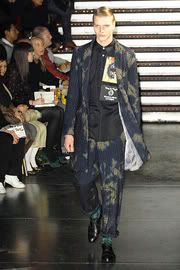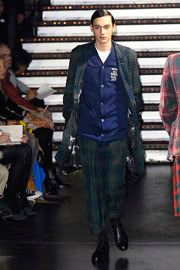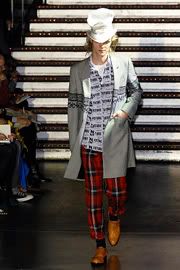 COMME DES GARCONS
this year marks the thirtieth anniversary of punk. the music that forced the underground straight up to the collective consciousness and allowed non-commerical cultures to not only go above ground, but ultimately become some of the most influential movements of the past half century. the image of punk is so powerful its hard to imagine that this rebellious and confrontational aesthetic was engineered by two people alone, malcolm mclaren, and vivienne westwood. the latter has since become one of the most influential voices in fashion and it is she who is the inspiration for rei kawakubo's most recent men's collection. kawakubo has always reinterpreted the western idea of clothing, but not just by being literal about it, she turns it into a hybrid of japanese design with a subvervise take on western tradition. asides from the plaids and the deliberate unkept appearance of the models, the punk reference could've just been used as a stylistic point of view if it wasn't for the elements kawakubo used to put it all together. the plaids were inserted into immaculately tailored suits, with some paired with kilts instead of trousers. as usual she played with proportions that saw jackets long enough to be an overcoat. it is this almost disregard to the stifling rules that governs menswear that is perhaps where the punk spirit lives on.



photo: men.style.com