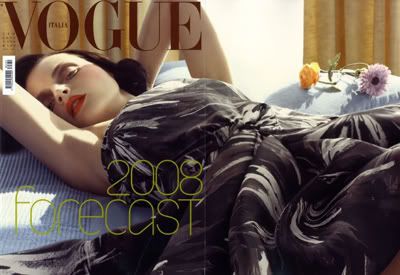 vogue italia - january 2008
photographer: steven meisel
model: guinevere van seenus
in the wake of the waif model movement of the nineties, a new crop of girls dominated the better end of the decade. because of the new appreciation for a different approach to beauty that wasn't all about the amazonian template brought on by the supermodels, designers, stylists, and photographers started looking for girls that had a more unique and not so immediately obvious beauty. this was the time of carolyn murphy, chandra north, amy wesson, esther de jung, kylie bax and my personal fave, guinevere van seenus. when she first appeared, the obvious uma thurman comparison kept popping up, but as she developed as a model and as a woman, i'm pretty sure there is no one who will ever make that comparison again. in many ways, her look is what defines the nineties for me. clean, minimal, androgynous at times and always perfectly unperfect. and ten years later homegirl is still schooling new girls how a cover is supposed to look like.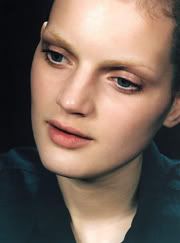 i'm pretty sure this ad campaign was for spring/summer either 1995 or 1996. as for photographer, mario sorrenti maybe. but i'm not sure and i haven't gotten around looking at my old fashion magazines from that time to properly give credits so you suckas just have to wait.