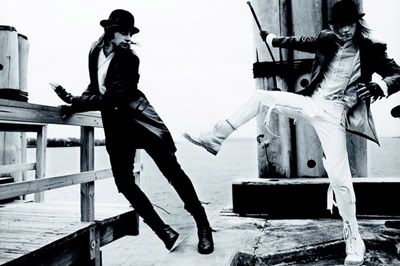 l'uomo vogue
photographer: max vadukul
models: boyd, torbjorn, chris gossard
i read quite voraciously and i remember when i first became obsessive over words in highschool that i went through a phase when i started reading the classics and one christmas my classmate gave me a copy of a clockwork orange by anthony burgess. i'm not gonna lie, the first time i read, actually make that attempt to read a clockwork orange i was like "what the fuck". maybe its because i was a novice in the art of reading, or maybe i'm just an idiot that i couldn't follow what the hell was going on. so my other friend who was really into film told me to just watch the movie because it was fucking brilliant anyways. i was around seventeen at the time and i remember renting it and watching it and i developed this massive crush on malcom macdowell. and since the film was made at the tail end of swinging london, the clothes obviously were off the wall. like "breakfast at tiffany's", a clockwork orange is one of those movies that has been continually referenced time and time again. i guess since the dystopia of youth will always be present, the imagery of a clockwork orange will always be a source of inspiration and it'll still kick ass again and again.