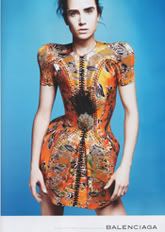 balenciaga spring 2008
photographer: david sims
model: jennifer connely
as much as i laud nicholas ghesquiere's genius, i have to admit that i ain't feeling this ad at all. of course i have my biases and i have openly discussed my opinion on celebrities representing fashion houses, so even though jennifer connely is a brilliant actress, there's something missing in these ads...something called fashion. it doesn't look like an ad from a house that is so representative on what fashion is about right now. to be frank, it looks like a spread on marie claire magazine and jennifer connely just happens to be the topic being interviewed. as an ad campaign from the most fashion foward of the entire spring collections, i'm afraid this ad fell pretty flat on its arse. actresses are not models, models can't act and actresses can't model.