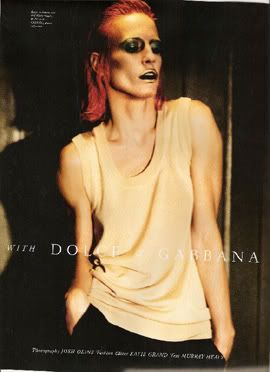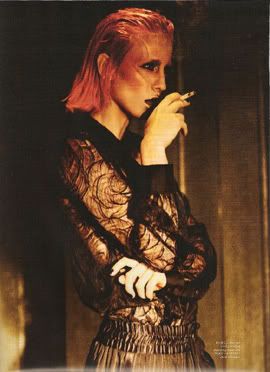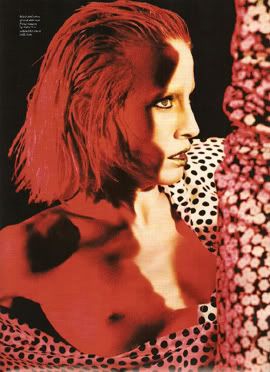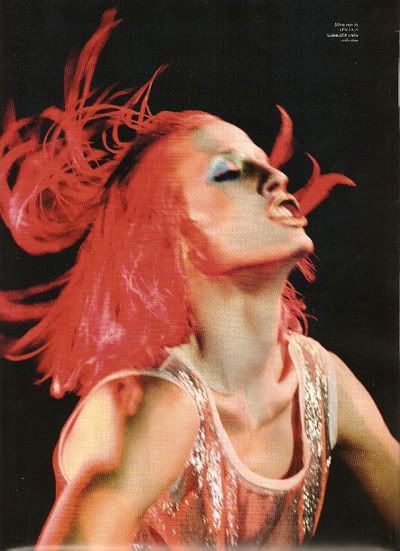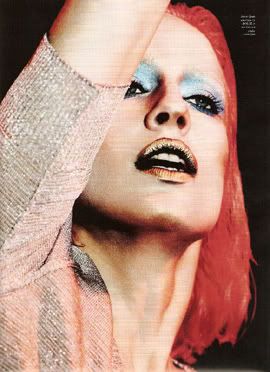 POP: winter 2008
photographer: josh olins
stylist: katie grand
model: natasa vojnovic
despite putting a celebrity on the cover, an american one at that, i must admit that while the cover was extremely lame (drew barrymore is cute and all, but she has no business being on the cover of pop magazine) this fucking editorial starring the always super impressive natasa vojnovic blows my freaking mind. yes the ziggy stardust/glam rock bowie has been referenced a gajillion times before, but to use one brand exclusively for this spread, especially one like dolce and gabbana who is the last designer(s) you would think about when u picture david bowie back in the day shows just what happens when you have a brilliant photographer, a brilliant stylist, and a model who can method act her ass through a shoot resulting in a performance that could rip the oscar off julia roberts' hand. you must realize by now how much of a fan i am of natasa. seriously, youtube her and see how much she gives infront of the camera. it'll warm your heart. but anyways, yes, this edit rocks. and despite the unfortunate cover, there is also a spread of asian modeling sensation liu wen decked head to to in junya watanabe; chanel iman actually for once looking aight; and lastly, one inspired by giles deacon's recent pac-man collection starring a whole bunch of babes and one of my most favorite models from the nineties emma balfour. come to think about it, emma would've been a terrific bowie too. anyways, natasa plus emma, same magazine = dope!