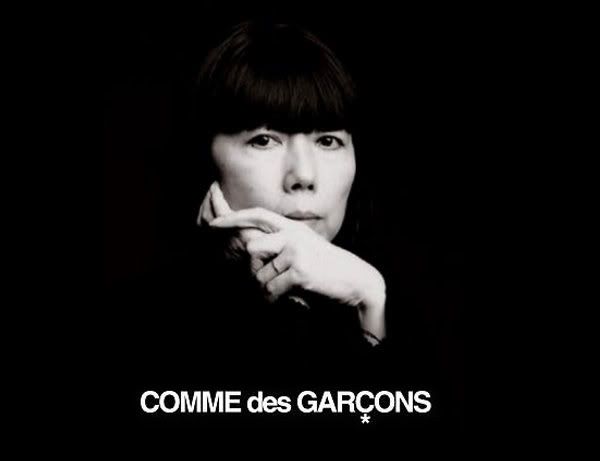 it is uncontested that designer rei kawakubo has been the most influential force in fashion for almost thirty years. establishing her comme des garcon label in 1969 and named after the literal translation of
"like the boys"
in french, it wouldn't be until her landmark debut in paris in 1981 that her unique, and directional vision would unleash an initial tidal wave of controversy but would eventually have a ripple effect that will forever change the course of fashion history and influence every one else from that day on. as marc jacobs replied to critics after his critically lauded collection for spring/summer 2008 and persistent comparisons to comme des garcons:
"i have my interpretation of ideas i find very strong. jil sander is influenced by comme des garçons, miuccia prada is influenced by comme des garçons, everyone is influenced by comme des garçons."
. proof that even after so many years, the power of kawakubo's unyielding quest to push the boundaries of fashion still resonates among today's most important designers.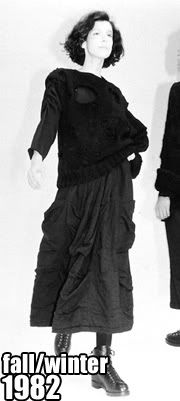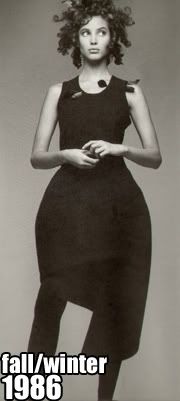 the ethos of the early eighties was opulent, and indulgent. couture was entering its second golden age and the glamorous nightlife brought about by studio54 a few years earlier and the popularity of television shows such as dynasty filled with well off women with big hair and even bigger shoulder pads came to crystalize the excessiveness of the "me" decade. the paris runways, where elaborate embroidery, rich brocade fabrics and extravagant ballgowns ruled, it would become the stage where kawakubo and fellow japanese designer yohji yamamoto would present the complete antithesis of everything else being presented at that time and change forever our perception of what the meaning and purpose of clothes are.
kawakubo's deconstructionist approach to fashion with her oversized and androgynous clothes with exposed seams, ripped and intentionally unfinished hems that draped asymmetrically around the body in a strict somber palette of black, white and gray had critics on a furor and dubbing the look "hiroshima chic".
after the original shock wore off however and people started taking a second look at kawakubo's proposal and the intellectual reasoning behind her work was beginning to be understood, and realized that while her clothes looked complicated, its generous proportions and fine tailoring actually gave its wearer more freedom of movement. as a result, independent thinking women who could not identify with the "power suit" and the completely made-up look donned by so many women at that time found the solution for a modern wardrobe in kawakubo. and with the success of her ground breaking ideas, it paved the way for the next group of designers to invade paris, the belgians. where kawakubo's influence is clearly present in the works of ann demulemeester and martin margiela.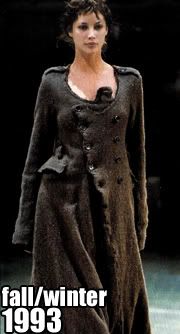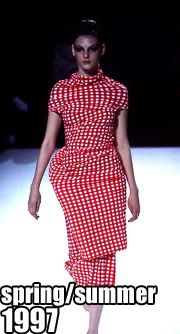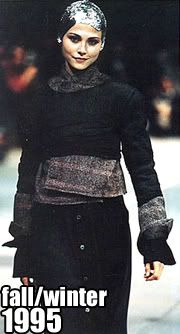 as the eighties moved into the nineties and the opulence of the previous decade gave way to nineties minimalism, which is in many ways a school pioneered by kawakubo, her interest in dissecting traditional archetypes of western clothing became a more dominant theme in her work. in her hands victorian, edwardian, military, the wedding dress, and even punk were revisited, torn apart, and put it all back apart together. being a japanese woman in a foreign land, with the eyes of an outsider looking in and a new perspective.
even after showing in paris for over a decade, her avant garde sensibility has made her a sort of research and development for the fashion world. and while the trademark deconstructed comme des garcons aesthetic has become accepted and even widely copied, she would prove in her collection for spring/summer 1997 that she still has the ability to provoke an intense reaction even from the people who have championed her early on her paris career. her now infamous "lumps and bumps" collection with its exaggerated padded bumps placed on the most odd spots on the body resulting in a deformed silhouette some critics likened to victor hugo's famous hunchback of notre dame, quasimodo. exaggerating body parts wasn't something new to fashion. other designers have done it before, namely vivienne westwood with her
mini crini
and
harris tweed
collections. this time however kawakubo wasn't trying to enhance the feminine curves in a sexual way, she was intentionally challenging what makes the female body beautiful by distorting it. while critics applauded kawakubo's intellectual courage to tackle on such a heavy topic, it was no secret that it didn't perform well commercially, but by this time the label had given birth to a slew of commercially friendly diffusion lines and has taken on designer junya watanabe to produce his own collection under the comme des garcons umbrella. followed a few years later with the addition of designers tao kurihara and most recently, fumito ganryu who designs women's street wear under the ganryu comme des garcons label.
its been almost thirty years since kawakubo permanently changed the fashion landscape. and even after all that time, she still hasn't ran out of ideas and continues to inspire a whole new generation with her philosophy. at the age of sixty six, kawakubo shows no signs of slowing down. in actually, as she gets older, the more prolific she gets. there are now about two dozen labels under the comme des garcons umbrella, all of which is available at dover street market. the concept store she opened in 2004 with her husband adrian joffe that is set up more like an art instillation than a retail environment. asides from dover street market, kawakubo also popularized the idea of "guerilla" stores. temporary shops that pop up in cities across the world with an intentionally short life span that obviously ended up being a concept dozens of brands have copied.
the two thousands also saw the label, always at the forefront, popularize the idea of collaborations which has proven highly successful for the label. familiarizing the comme des garcons idea to new markets. most surprising has been the label collaborating with street influenced labels and artists. most popular being filip pagowski who designed the heart logo for the comme des garcons play line, graffiti artist KAWS who the label collaborated with to produce a successful line of limited edition leather goods, and japanese street wear cult favorite, visvim.
the big collaboration news would come this year when comme des garcons teamed up with two of the most recognizable brands in the world. the first being the grand daddy of the luxury world, louis vuitton. using the familiar LV logo and interpreted into more forward thinking designs which results in a dynamic tension between status symbol and avant garde ideas. with bags that comes attached with multiple handles, and even one shaped as a chihuahua. as intriguing as that collaboration may be, perhaps kawakubo's partnership with swedish mega retailer giant h&m that will debut in a couple of days that has garnered the most deafening buzz. considering everyone's wardrobe is in one way or the other influenced by kawakubo's illustrious body of work, i guess it makes perfect sense that finally every one can finally afford the real thing. minus the luxurious fabrics and high quality of course. but us poor folks, we'll take what kawakubo we can get.