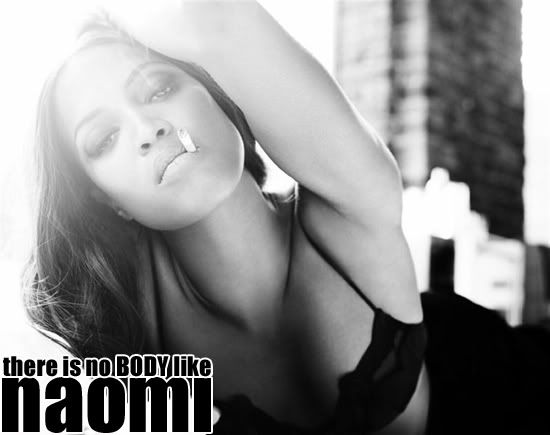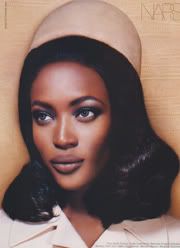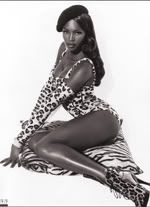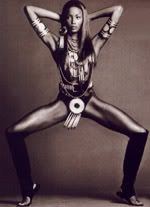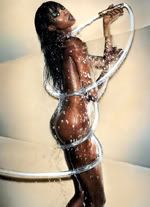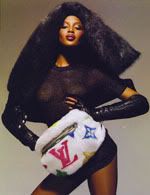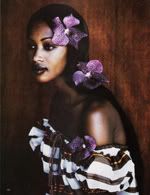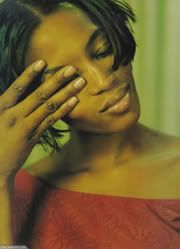 how to describe naomi campbell. apologies for sounding crude, but in the words of a straight man (which i'm not), a walking hard-on. but i can't really disagree with that analogy because she does have the most perfect body ever created by god with legs that goes on and on and on without looking like a toothpick like today's crop of models. she has those thighs that look strong enough to crush wal-nuts but without beyonce's thickness. plus you can probably bounce quarters off her ass and her bodacious bod still kicks mega ass even at the age of thirty seven. she started her modeling career at the age of fifteen when she was discovered window shopping at covent gardens in london. her graceful movement which was the byproduct of her dance background made her a favorite among photographers and fashion designers. her first real major breakthrough came in 1988 when she became the first black woman to land on the cover of french vogue. it was during that time when the supermodel era was beginning and naomi was part of the holy trinity of modeling which included christy turlington and linda evangelista that could command mega bucks for their time and designers were willing to shell out the dough. gianni versace reportedly paid the trio $30,000 each for a single runway appearance. when george michael released his video for his single freedom in 1990, he cast naomi, linda, christy, plus cindy crawford and tatjana patitz for the video and introduced these heavenly beauties to the general public (although i should add that this wasn't naomi's first foray into music videos. she was cast as a back-up dancer in bob marley's
"one love"
video and the culture club's
"i'll tumble 4 ya"
). shortly after wards naomi landed the cover of time magazine which wrote an article on the supermodel phenomena and gave her even further exposure. as the supermodel era reached its peak, stories about naomi's incessant tardiness and aggressive behavior started to circulate. with john casablancas, the CEO of elite models sending a mass mail to everyone in the business informing them that naomi has been dropped by the agency before they have actually told naomi herself. after that incident, it wouldn't be long before the words "naomi" and "cellphones" would forever be intertwined. i'm not going to go through that because thats general knowledge. and episode of E true hollywood story about naomi dedicated a good half hour on that subject. she has since attributed those behaviors from an addiction to cocaine. so as dave chappelle channeling the spirit of rick james famously said "cocaine is a hell of a drug". so i forgive her. even though she has since been charged with aggravated assault twice just these past few years. well at least cell phones aren't as bulky and heavy like the ones back in the days. after all the bad publicity about her, what many might not be as familiar with is that naomi is quite the humanitarian. she has raised funds for causes like helping the victims of hurricane katrina, the AIDS epidemic, the lack of representation of models of colour in fashion, and a whole bunch of other worthy causes. i may never want to apply to be her personal assistant, or at least not go to work without a helmet, but i still think that this bad ass is one of the nicest girls in the biz. really...when was the last time you've seen a model organizing a fashion show to benefit charity. naomi, naomi, i thank the heavens there is someone like you.