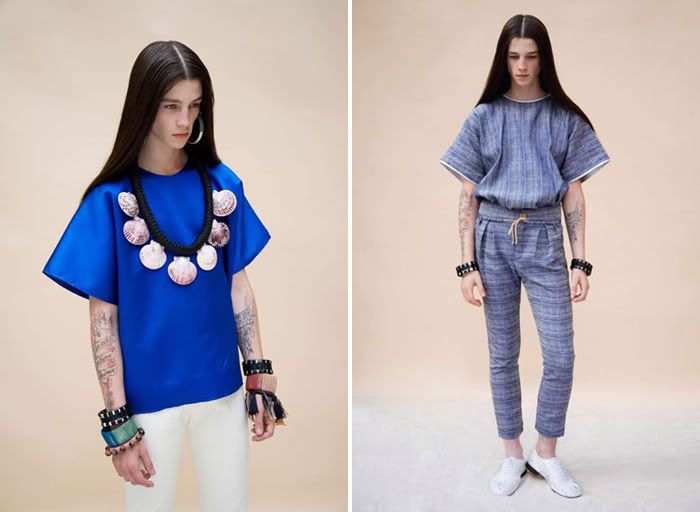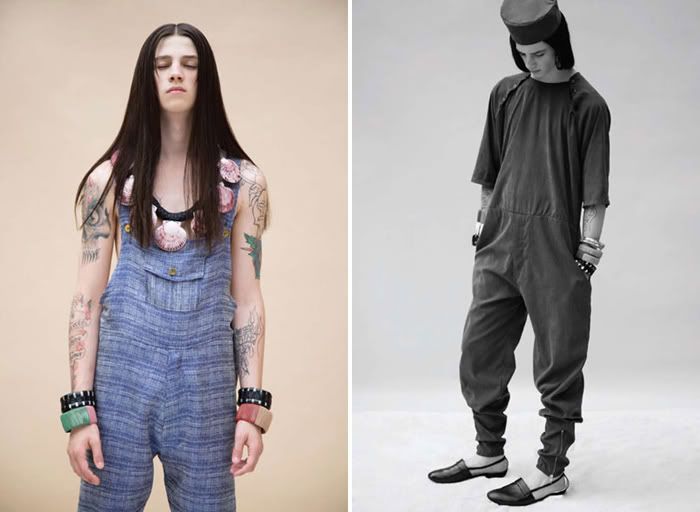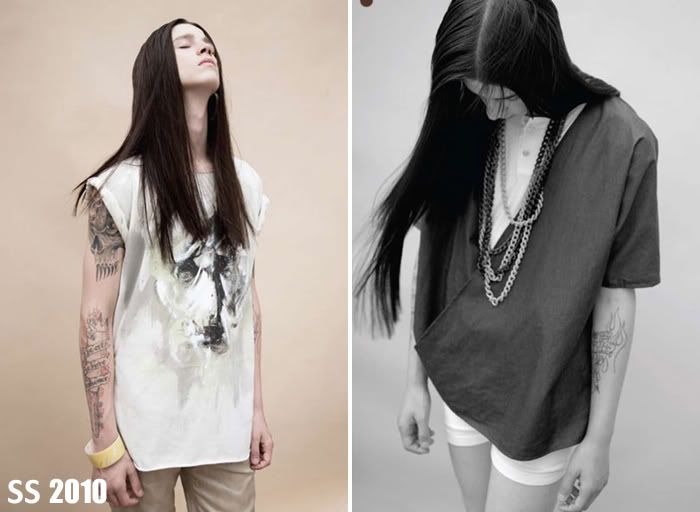 menswear is on the verge of entering a new renaissance. propelled by designers who's sensibility is rooted and respectful of the past, yet are filled with an urgency to push the idea of masculine beauty into territories it has never been before. where else but in england, the country responsible for the sartorial codes of the modern man's wardrobe, can the new messiah of men's fashion come from.
born in northern ireland in 1984, j.w. anderson first gained the attention of the fashion world in 2007 when he participated during london fashion week and presented a collection with a few pieces of jewelry using real insects as an element of his design. that collection ignited a buzz around the young designer and his following collection for fall/winter 2008 cemented the all the hype that preceded him.
based around the mythology surrounding the infamous grigori rasputin and his relationship with the royal romanov family of turn of the century russia, anderson delved into the psyche of the historically sinister character and explored on the themes of sexuality, vulnerability and isolation. the effect of layering and coats that wrapped around the body gave it a false sense of protection. betrayed by the shell fish and crabs that decorated the garments. creatures with exposed skeletons that signified the vulnerability of the czar in the company of rasputin. he further elucidated on this parasitic relationship by creating rings with real insects trapped inside resin balls. an omen of the czar's inescapable and brutal future.
his following collection for spring/summer 2009 is regarded by many as his landmark collection. although this was not his sophomore presentation, it was the one that proved that he can not just live up to the hype, he can surpass previous expectations of him. a talent that has the ability to bring a new perspective on men's fashion and do it in a conceptual way that doesn't get buried beneath the story line.
his spring/summer 2009 collection was mainly focused on the tension brought about by the brutality of adulthood, and the naivete of youth. wicker voodoo dolls inserted on the button holes of jackets reflected anderson's fascination with the sinister and the macabre. such symbolisms penetrate throughout anderson's work. there are three dimensional lions embroidered on trousers that represented the protection of the archangel saint michael. or acorns, representations of eternal life adorning garlands made of straw that crowns the head. every detail acts as a puzzling hieroglyph that needs to be deciphered which then pieces together a complex story. the clothes however never suffers from such indulgent fantasies. he managed to attain a perfect balance of english eccentricism and british practicality. school boy brideshead revisted references anchored this collection to reality and provided a protagonist against the evils of growing up.
his past two collections might have earned him a reputation as one of fashion's most competent historical researcher following on the footsteps of his fellow british designers vivienne westwood and john galliano, but his last collection, compared to the everything else he showed previously, didn't seem to be as heavy with conceptual narratives like its predecessors. instead it was a re-interpretation of old world ideas of masculinity and the primal need to explore new territories. again he displayed a capacity to marry his avant garde sensibilities with the backbone of men's fashion, tailoring. giving his affinity for volume and edwardian loungewear, this time it was a more controlled. more disciplined. it was masculinity stripped to its simplest form. through anderson's interpretation of course. this level of control signals a maturity that separates him from other fashion enfant terribles.
for a designer as young as j.w. anderson to not only manage to animate his elaborate thought process through his craft, but to do it exceedingly well and not fall into cliches of avant garde pretention, proves that he is a designer who is on the cusp towards achieving great things.






photos: spring summer 2010 preview - coute que coute, runway - catwalking.com