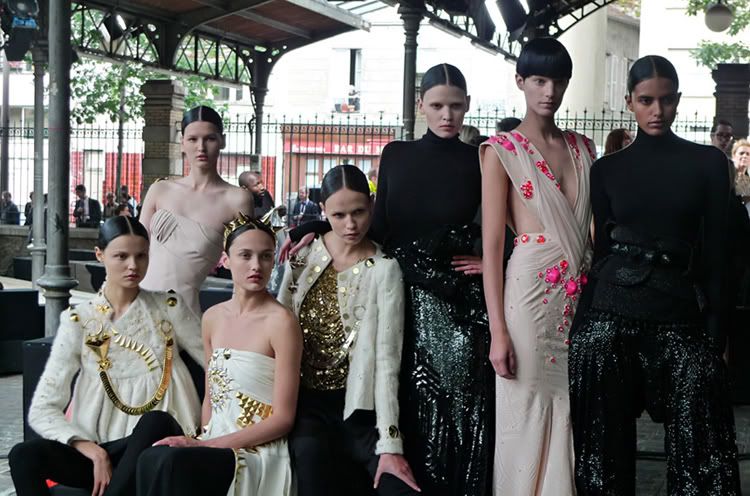 the validity of couture, its contemporary relevance, has been strongly debated and garners impassioned acclamations from those that staunchly support it, and a sly cynicism from those who no longer believes in the values and traditions couture stands for.
it takes someone like ricardo tisci to open a dialogue about the current state of the dying art. to remind the world about the fantastical, transportive quality that can only be accomplished through the craftsmanship and boundless imagination of the designer and the ateliers that work towards realizing that vision.
what tisci is able to bring to the table is couture that isn't lamed by traditions. it isn't by any means a vulgar disrespect towards the old masters that came before him. quite the contrary. what he is doing is following the footsteps of balenciaga, schiaparelli, and givenchy himself. which is having faith in his own ideas. there is no compromise with his work. it is his vision. a romanticism that although not aesthetically comparable to that of monsieur givenchy, it has the same romantic spirit that makes him an obvious heir apparent for the house and the one who successfully gave givenchy a new, modern identity that his predecessors alexander mcqueen and julien macdonald never really accomplished.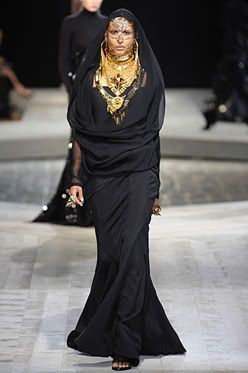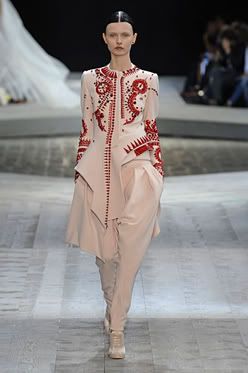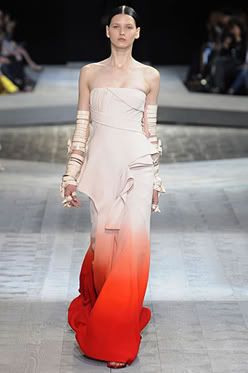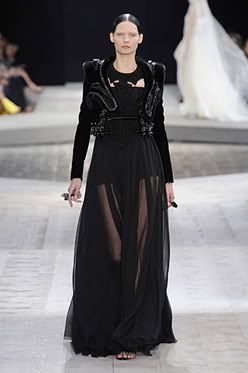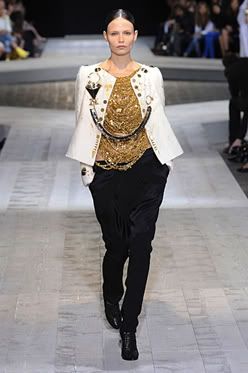 this season tisci continued his exploration on ideas that he presented for givenchy homme a few weeks ago. the references to indigenous costumes of north african berber tribes, morroco, and muslim veils and using the same pattern that can be found on the keffiyehs worn by palestinian men that he printed on shirts, t-shirts, and trousers for his male customers resurfaced again, but this time in tulle done in white that was so transparent it only whispered as a fine detail on the hem of the closing dress. it is these little touches that demonstrates tisci's couture sensitivity. the gold face masks and the spike crowns and cuffs might be a bit much for real life, but the delicate way he draped the dresses in the middle sequence with feminine, but never heavy embroidery, and the way he manages to make the ombre hem of a dress dance is a testament that despite all the pomp and drama, there is a valid couturier behind the avant garde facade.
despite being critically acclaimed by many, tisci also garners criticisms accusing him of being exploitive and insensitively pirating other cultures. critics aside no one can argue the fact that his work evokes a powerful reaction. it triggers an intense emotions. a feat that is becomingly increasingly impossible to do given the current state of fashion where its pace has become too fast many barely take a second look. tisci's work is able to stop anyone dead in its track.