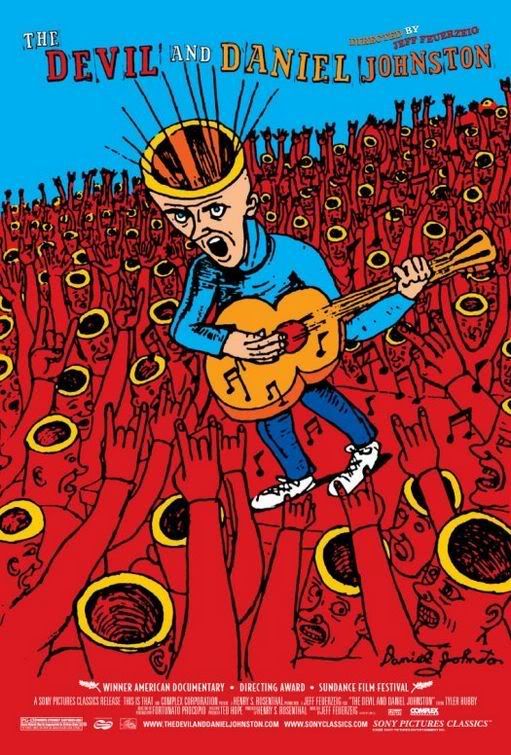 i was just going through my files and i had a folder specifically dedicated to monsieur saint laurent. after he passed away i started collecting images because eventually i would want to write about the massive influence he had on fashion. as i was doing that i happened to look at the little pictures of paintings by amedeo modigliani and for some random reason i wondered why geniuses are such tortured souls. its like the zenith of highs and lows and the constant pulling of feelings of happiness and sadness is in some masochistic way, the same thing that kindles the creative fire inside them. and then that got me thinking of this little documentary i saw a while ago that totally blew my mind off my skull. to be honest i've never even heard of daniel johnston. i never knew that he was one of the great inspirations to everyone from kurt cobain who wore johnston's "hi how are you" t-shirt like a school uniform, to r.e.m., and most mind boggling of them all, sonic youth.
daniel johnston is, in my opinion, one of the most brilliant and unsung artist of the twentieth century. even if you haven't heard of him you probably heard one of his songs because he's been covered by everyone from beck, the flaming lips, bright eyes, yo la tengo, and tom waits to name a few.
in the documentary you get to see home made videos he made as a teenager and you feel like a giant loser because you weren't even close to the creative genius he was when he was barely in his teens. and you really get to see the psychological workings of his mind and it gives you some meaning to why he eventually ended up how he did. its like this, imagine feeling all the heartaches, disappointments, insecurities of your youth but times it by a thousand. you really get a sense that thats what he was feeling and how he puts those feelings into song is awe inspiring. i've rarely came across anyone who can be so simply honest in their lyrics that it becomes profound. there are moments in this film that is so heart wrenching to watch because as you watch this documentary unfold, you develop such intense empathy for the guy. and when he finally succumbs to his dementia and you see the shell of his former self it attacks every sensitive part of your body.
i don't want to give away too much of this film because i really believe that every single person should watch this movie. in fact i think it should be one of those movies that should be included in the highschool curiculum because every kid will fully understand what he was feeling.
he went through what we all go through and i can't stop thinking how i didn't end up like he did when he had so much more talent and promise. it's been almost two years since i first saw this film and i've watched it many times since, and till now i am just as amazed as the first time.