i've always ranted about how incredibly lame the fashion industry is here in toronto. toronto fashion week is lame. ninety five percent of the designers who shows during toronto fashion week are lame. the people in the toronto fashion industry are almost all lame. and even though ryerson has produced such amazing designers such as jeremy laing, erdem moralioglu, and todd lynn, to put it bluntly, their annual graduate show is ridiculously lame. embarrassing even. let's face facts, canada in general doesn't support or nurture its artists' creativity. here its all about commerce and trend fucking because heaven forbid that people from other countries would look at them as not keeping up with global trends rather than being an individual or creative. perhaps ryerson should start looking at belgium's royal academy of fine arts as an inspiration on how to effectively run a program that can produce some of the most influential designers in the world but doing it in a way that is extremely sensitive to each individual designers point of view. in a world that is continuously shrinking, an individual voice with its own point of view becomes louder and louder and its resonance is felt by a wider audience. and even though some of the collections you are about to see are from first, second, and third year students, some of those collections was able to produce some of the strongest reactions i've had from ANY fashion show i've seen in a long time. and i would even go as far as ranking antonin tron and glenn martens' graduate collection as two of my top ten collections of 2008. i hope you guys and dolls enjoy this shit as much as i did because i'm fucking sure that one of these dudes is going to be the next margiela or van noten.

FIRST YEAR: skirt, dress, experiment (frame)

the first year collection was divided into three parts. using the dress, the skirt, and frames as the basis for inspiration, students were challenged into taking such a basic idea and developing and stretching it to its limits. an exercise that forces the students to confront traditional notions of fashion and interpret it in a way that is personal, conceptual and in a way that demands the student to invent new levels of technique to achieve their goal. if only all basic 101 classes started off like this then just imagine how less generic the world could be. which totally explains why toronto well canada in general is suffering from an advanced state of bandwagon jumping syndrome.
SECOND YEAR: historical costumes and collections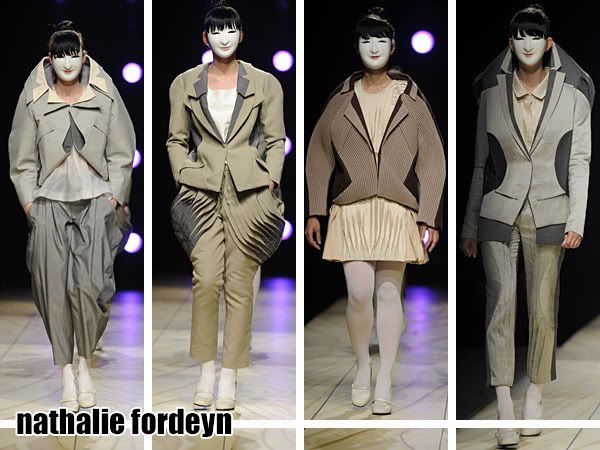 THIRD YEAR: ethnic costumes and collections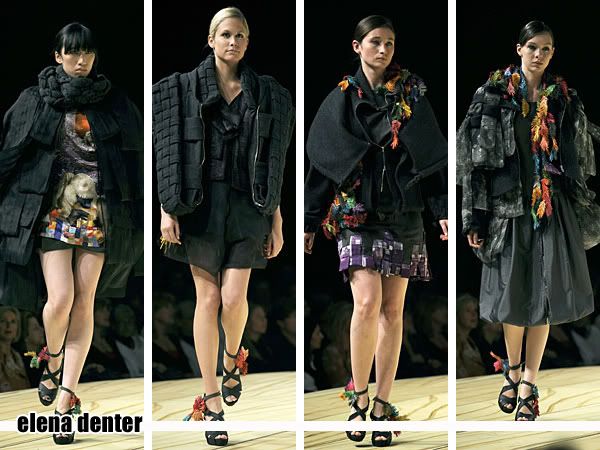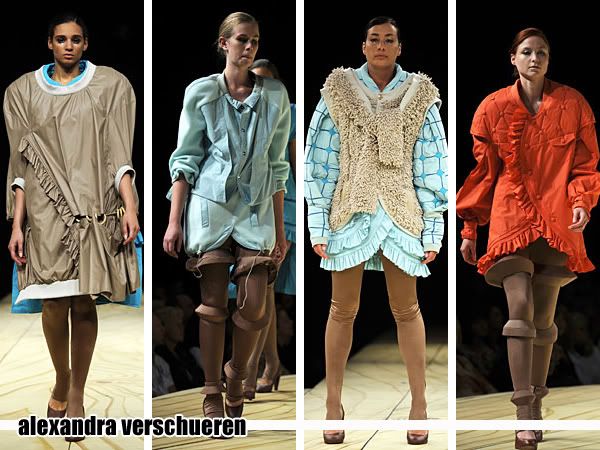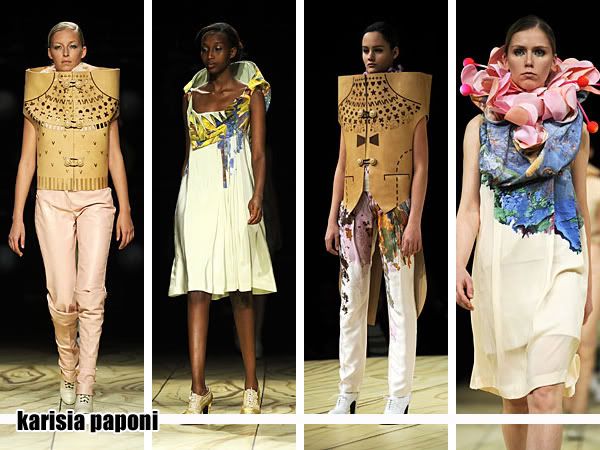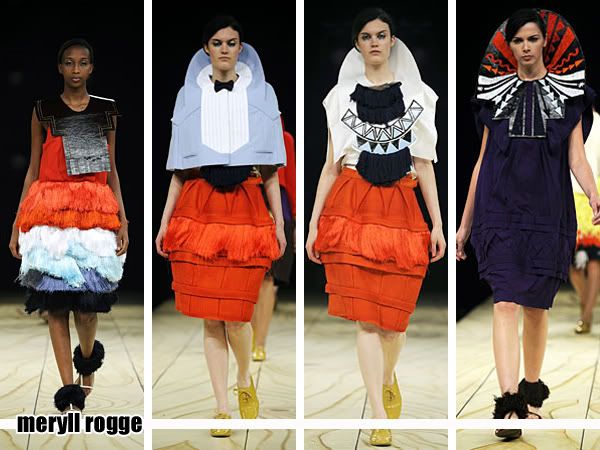 FOURTH YEAR: graduate collection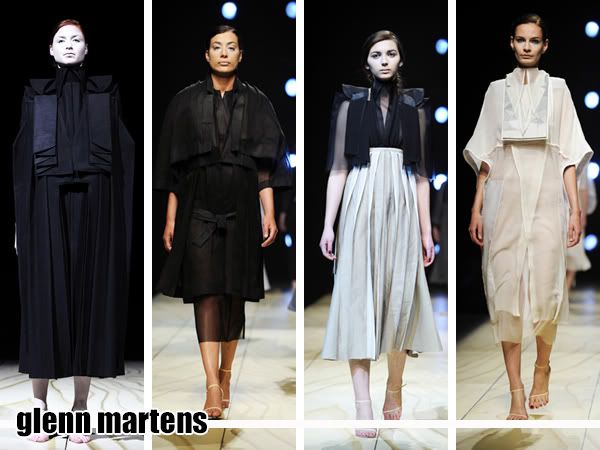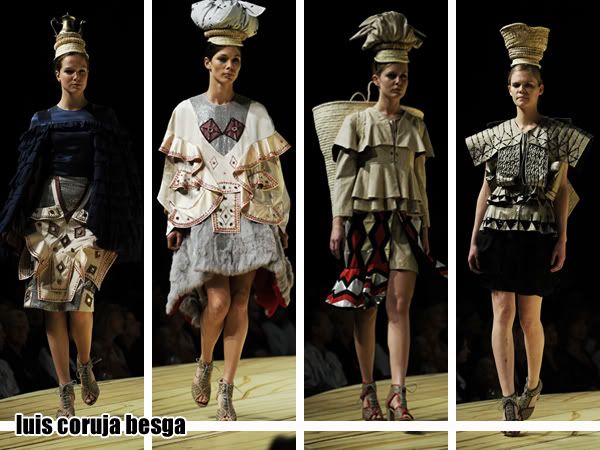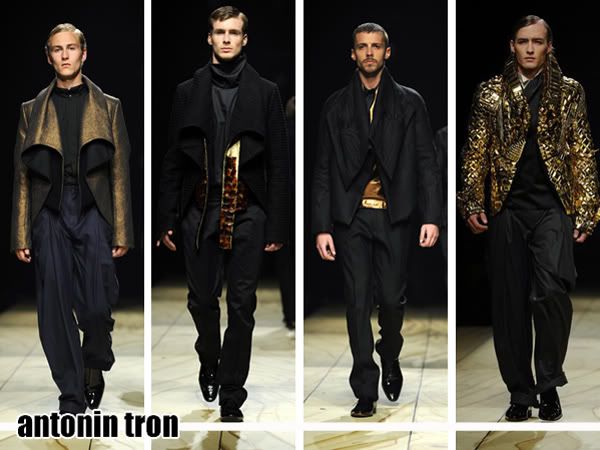 i told you guys you would love it. its fascinating how the school is able to develop the talents and personal vision of each designer and be able to integrate the native cultural backgrounds of its students and apply all those diverse factors into a body of work that is innovative with a signature point of view from each designer. there is a passion in the work that is unquestioned and that passion easily communicates the runway presentation to the audience. and from the basic reference of the first year exercise to the historical and ethnic inspirations from the second and third year, it is easy to see those elements utilized by the graduating fourth year class. there is that tension between the romance of the past and culture with the speed and ethnic hybrids of modern life that belgian designers are renowned for. the royal academy, along with schools like central saint martins' fashion program should be emulated by schools around the world so that the designers of the future can inject some much needed individualism back to our lives. i can at least appreciate seeing some dude or gal walking down the street with some fucked-up shit than having to deal with another winter full of ugg boots, suburban emo crap or the new cool thing the hipster kids are into. i really need to move. i'm totally in the wrong continent.
photo: etienne tordoir, catwalking.com