with the countries around the world on the verge of panic of gargantuan proportions brought about by an economy within a knife edge of a recession, it will without a doubt have a profound influence on the spending habits of consumers who will not be as confident in shelling out their hard earned money as they have been for the past few years. if in a few months and the economy has still not been stimulated, every industry, retail and fashion included, will be bracing for an upper-cut to the jaw inducing knock out.
there are already speculations that come march when designers debut their collections for autumn/winter 2009 that the general mood will be that of restraint and sobriety. the focus on timeless pieces will be more apparent and displays of opulence and imagination induced indulgence will be few and far between. who can fault designers of multi-million dollar houses of not tickling their fancy when people aren't willing to spend on trend driven ideas when everything they buy has to be worth each and every penny plus have longevity to weather the storm? whether that eventually becomes the case is anybody's guess. while it is certain that certain designers will go that route, other designers like elsa schiaparelli during the great depression or versace in the early nineties can see it as an opportunity to lavish on their ideas and provide some unabashed beauty in a gray, sombre world. regardless of which direction they veer towards, they need a face to represent it.
looking back at the last period of recession that occurred during the beginning of the nineties and the unavoidable one ahead, it appears that in times of economic strain, the modeling industry shifts towards a classic, and text book definition of beauty to show potential clients girls that are more easily understandable and be able to promote their products to a wider set of audiences. because regardless of which way the economy swings, the most effective vehicle to sell a product is through beauty.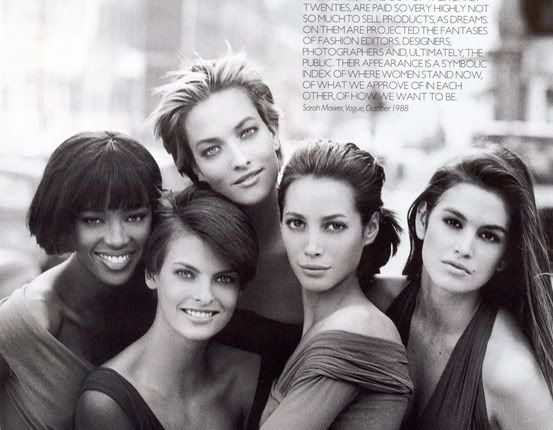 the recession of the 1990-1991 has been building up since stock markets around the world crashed on october 19, 1987. a day which will forever be remembered as "black monday". while the economy appeared to have quickly recovered from that event, in actually it planted seeds that would eventually, along with other factors such as the gulf war and the resulting spike in oil prices, contribute to the recession a few years later that saw unemployment rates soar, slowed the GDP (gross domestic product) growth, and a mounting government deficit. with such a strained economy, it seemed hardly the time for fashion's first celebrity designer since poiret to gain enormous popularity. or for a handful of genetically blessed girls to command millions of dollars for their work during a time when every dollar spent was given the utmost consideration.
gianni versace was known for his exuberant designs and opulent lifestyle. a lifestyle that reflected his work that gave his designs a vivacity and glamour that added a bolt of raw energy to a fashion calendar filled with restrain and sobriety. his unabashed and unapologetic take on fashion that referenced traditional italian craftmanship, baroque and modern art culminated into over the top clothes that had such a raw sexuality amidst a sea of modesty made versace increasingly popular. his work fulfilled fashion's fundamental purpose, to provide a sense of fantasy. a fantasy that wasn't being delivered by other designers during a time when it was needed the most. to further augment the potency of his larger than life vision, versace needed a vehicle to convey fluently his message. not satisfied with the models who at that time were specifically runway models, versace started hiring top models who worked primarily on print and paying them top dollars to appear at his shows. in effect versace is widely credited for instigating the supermodel phenomenon.
while there have been many models in the past whose popularity went beyond the fashion world like twiggy and verushka in the sixties, or pat cleveland and christie brinkley in the seventies, no one has ever been able to command the astronomical fees the supermodels of the early nineties did. it's even been rumoured that versace paid christy turlington a staggering $30,000 for a single runway appearance. quite nonsensical considering the economic environment at that time. so how was it possible for girls like cindy, linda, naomi, claudia, or christy, models that the general public now know on a first name basis, been able to command such high fees for what appears to be frivolous work? is them being beautiful simply the answer? considering that only about a minute percentage of the population have the basic requirements to be a high fashion model, and in that extremely small group to pick out the most beautiful amongst the beautiful, and then narrowed down even further to the girls with the best personality, the most photogenic, the best walkers, the most professional, and with that intangible "it" factor, then you have girls who are highly specialized and extremely good at what they are paid to do. and considering that it is their face that is able to push millions of products with billions of dollars in revenue, it seems logical for cindy crawford to be paid $3 million dollars for twenty days work when she was the face of revlon. even when times are rough, no woman would ever be willing to sacrifice their beauty.
and it is specifically because of those hard times why the supermodels were so successful. their beauty wasn't confrontational, or questionable. it was classic, universal, and aspirational. many likened them to the stars of the silver screen in the thirties. the time of the greatest economic strain, the great depression. these supermodels were the glamorous screen stars of that time. people wanted to see their perfection because everything else wasn't. their beauty was an escape, a fleeting fantasy that provided some respite to reality. casting directors who handled multi-million campaigns understood that and used these supermodels to represent their brand because they knew that their beauty was risk free. it could be appreciated just as much as a mother of two in suburbian iowa, or a cosmopolitan woman working in new york city.
as the economy started to recover and fashion was moving towards a more reality based sensibility, a new breed of models were beginning to share the catwalks with the supermodels. these new crop of girls weren't stereotypically "beautiful". the catwalk, which was once ruled by towering glamazons with perfect bodies now had another resident. at a mere 5'7 and weighing less than a hundred pounds, kate moss would challenge our perception of beauty and eventually become the unlikely poster girl of the nineties.
the initial success of kate moss was her timing. she crystalized the general mood of that year. it was 1992 and not only was fashion shifting towards another direction it was also a time when american economist alan greenspan defined the moment as a time of "economic exuberance". the economy was finally on the rise and it was time to get back to work and reality and people were too pre-occupied to busy themselves daydreaming about versace's fantasy ball gowns. when reality finally seems optimistic and there is money to spend and even take a risk with, that also has a huge influence on fashion. while kate was initially condemned for representing an unhealthy body image, casting agents used her resulting notoriety and landed her a multi-million dollar ad campaign for calvin klein. something that would have been deemed way too risky to even contemplate just a year earlier. it was a risk that eventually paid off and the revenue brought about by kate's scandalous campaign earned calvin klein hundreds of millions in revenue. kate was a risk that paid off in spades. it is because of her unconventional beauty in a time of prosperity that paved the way for models like guinevere van seenus, audrey marnay, alek wek, and esther de jong. girls who are not considered to be classically beautiful, but would eventually go on and represent other multi-million dollar campaigns and defined what it meant to be beautiful in the nineties.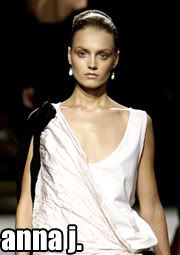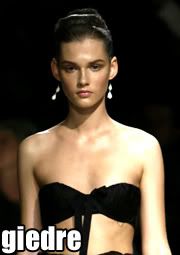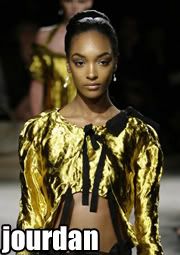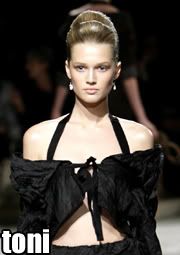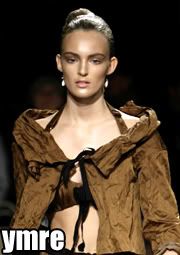 its been almost twenty years since the world plunged into such troubled economy as it did during the recession of the early nineties. while there have been many mini-recessionary periods, it did not have the impact as the recession of 1990-1991. all that is about to change come next year when the world is bracing for what would be one of the worst economic crises of recent time.
does this mean then that the modeling industry is about to undergo another change? a direction that would see the classical ideal brought to the forefront? perhaps it has already started. while it might not be entirely brought about by the economy that would be responsible for the pendulum swinging the other direction, it is unarguable that it does play a major factor. again, this is not the climate to be taking multi-million dollar risks on models that might not have the most universal appeal. an appeal that goes beyond those who regularly check the rankings on models.com or pay attention to who lands on the cover of the most recent vogue italia. it needs to be a face that appeals both to the fashion conscious, and the general public. and the world was given a preview on who those new faces are during the most recent spring/summer 2009 collections where there was an obvious lack of directional girls but prolific debuts of simply beautiful, pristine girls.
the further proof that the modeling industry is heading towards a more classic definition is when fashion's most consistently influential seer, miuccia prada, known for her irreverent choice of the prada woman that launched the careers of unconventional beauties gemma ward, hannelore knuts, querelle jensen, and sasha pivovarova, did a complete 180 and cast her spring/summer 2009 collection with a bevy of beauties that because of their classicism was able to provoke the same caught off guard reactions when she chose unorthodox models. this should have came as hardly a surprise considering she chose the most iconic of all models, linda evangelista to star on the autumn/winter ad campaign.
perhaps the choice of mega luxury brands to suddenly become nostalgic for things past started when marc jacobs cast supermodels of the nineties for the spring/summer 2008 ad campaign for louis vuitton that starred naomi capbell, stephanie seymore, claudi schiffer, eva herzigova, angela lindvall, and natalia vodianova. by autumn linda had nabbed prada, naomi bagged yves saint laurent, christy turlington starred in escada, and claudia schiffer had chanel. this sudden interest in a supermodel revival has seen "retired" models appear on some of the most important catwalks this season. jamie bochert and emma balfour walked marc jacobs. ana cladia michels who was part of the wave of brazilian bombshells that dominated the early two thousands (another recessionary period) opened givenchy where she shared the runway with another old time favorite frankie rayder and come back girl of the season anne vyalitsyna. even dsquared hired nineties supermodel and azzedine alaia favorite nadege to walk their show. after so many years of seeing girls that acquired a lot of hype only to quickly fizzle out the following season, the craving for someone who is able to stand the test of time and at the same time be able to push products because of their familiarity or straightforward beauty is proving to be the safest bet in the upcoming economic crises.