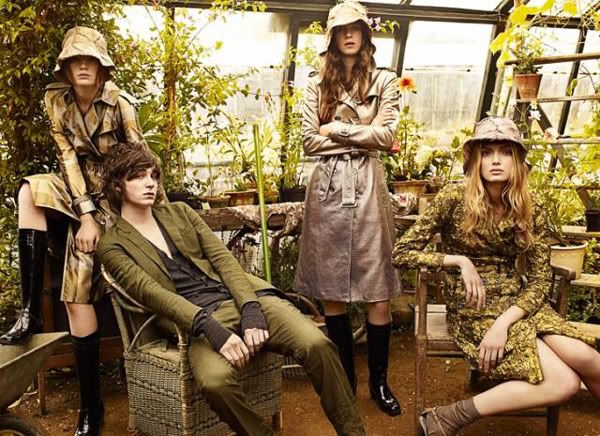 i've always loved and respected what christopher bailey has been able to accomplish at the house of burberry. its not easy to carry over a hundred and fifty years of tradition on a thirty seven year old shoulder. especially when the task he faced was not only to modernize the house's trademark accessories out of the duty free shop territory, but to also broaden the house's profile that would also include high-end ready to wear.
brilliantly he started off using the iconic visual trademarks of the house such as its infamous plaid and the classic trench coat as the starting point in his quest to reincarnate the brand into a commercial powerhouse. one that would seduce new consumers but at the same time not alienate the robust history of the brand. he managed to accomplish that by giving all of his collection a quintessentially english identity. whether it referenced ideas as diverse as london new wave, post war british "making do" approach to dressing, punk, the bloomsbury group, princess margaret, the swinging sixties, military touches that are perennially ubiquitous at the house, or the english countryside, bailey has managed to subvert and celebrate the essence of the house at the same time. and the thread he used to tie it all up was a sense of romance. a very english sense romance.
it is a romance that could be as joyful and almost comedic as the tension between elizabeth bennet and mr. darcy one season, and the next be as heart wrenching as the love affair between jane eyre and edward fairfax rochester. followed next season with a feeling like a nostalgic memory of youth in dickensinian proportions. or it could be something as pure as the soulfulness found in melancholy. despite such emotional overtones, bailey never once abandons the intellectualism that gives his collections a rhyme and a reason. he manages to have sense of rationality to balance the poignancy of the story he is trying to narrate through his clothes.
the romantic sensation the clothes inherently exudes are heightened even more by the show's soundtrack. for spring/summer 2009 which was inspired by english gardens and a continuing theme from his menswear show that referenced the sombre landscapes depicted by artist derek jarman, bailey opened the show to ambrose slade's
"if this world were mine"
. a song about longing for love that cemented the mood of melancholic sensuality he was aiming for.
despite such heavy feelings brought about by some of his presentations, what bailey is trying to achieve is to provoke something out of the audience, and hopefully and eventually to the consumers. to instigate a connection between garment and its potential owner. clothes might just be things that we put on for a reason as basic as modesty or as complex as trying to find a mate. but the clothes we end up developing a close affinity for are the ones that has lived with us. the clothes that has gone through many of our experiences. from burgeoning romances to heartbreaks, or the first designer piece we saved six paycheques for, there are always clothes we would never throw away because its become part of what we use to identify who we are.
that is probably the reason why bailey's clothes always looks worn in. finished to look like something that has been lived in. but done in luxurious finishings and fabrics with the highest level of craftsmanship to ensure that although it was made to give the impression of being old, is made to last for a long time. coats were given the ombre effect at the edges giving it that appearance of being caught in the rain. shirts, trousers, and jackets wrinkled to give it some life. and coats made out of washed python skin with distressed floral applique that never screams the opulence of its fabrication, but makes a quiet statement with its almost humbling charm to be inconspicuous despite its expensive price tag.
the romance and the job might not last, and our youth is definitely not forever, but at least we know a burberry trench will always protect us from the rain. and just like our favorite pair of jeans, it only gets better with age. regardless of how ripped up it is. just like us i reckon.
p.s. yes i am extremely aware that this post is hella cheese. but i don't care.