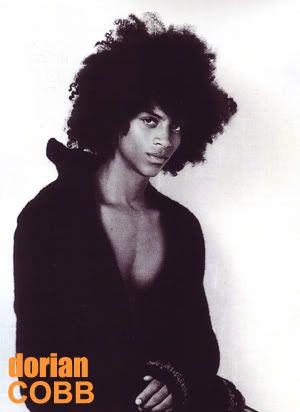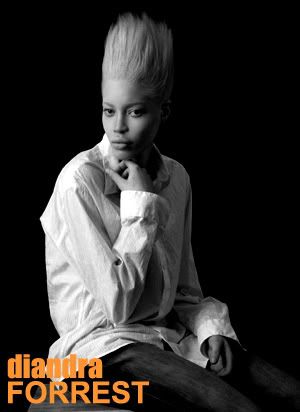 black models have always been severely under represented in the fashion industry. while models like naomi campbell, who for over the past two decades have been one, or actually the only one that have reached iconic status, she for the most part, has been the lone model of african background from the supermodel era that has enjoyed enormous fame and popularity and still be kept in high regard by some of the most influential image makers in the industry. sure there are models like jourdan dunn or chanel iman who are doing extremely well especially in these times when the vogue for beautiful classicism is in high demand, but while "directional" caucasian girls are still able to compete and even thrive in this climate, highly editorial models of colour have been few and very far in between. not since the mid nineties when alek wek commanded the attention of the fashion world with her extremely prominent african features and deep ebony skin has a model of colour been able to achieve the longevity and prominence wek has enjoyed for over a decade and still not conform to traditional connotations associated with beauty in a western, eurocentric sense. that however seems to, and hopefully is about to change.
after the groundbreaking and extremely influential all black issue of italian vogue was released last summer which helped launch the careers of sessilee lopez and ubah hassan, girls who compared to the regal and feline beauty of liya kebede and jourdan dunn respectively, exposed the world to models of colour who has the face that has the versatility to lend their personality and definitve beauty in an editorial vernacular yet are able to translate to commercial territories. this upcoming season seems to be the real test on just how far reaching that watershed italian vogue issue really is.
with all the hype surrounding supreme's rose cordero, the sixteen year old dominican who is the first black model since gucci campaign girl nadine willis who has been at the roster of the agency reknowned for its edgy high fashion girls and elite's newly signed diandra forrest with her haunting and beautiful albinism has the modeling world seen such models of colour who has the potential of enduring such premature hype and possibly maintain a longevity similar to successful editorial girls such as guinever van seenus or karen elson.
the male modeling world too is experiencing a dawning of a new age. as was evident with the most recent european menswear presentations, the need to evolve past hedi slimane's post modern and highly romanticized male image and the uber masculinity of the late eighties/early nineties seems to finally be giving way to a new breed of models who's masculinity is represented by a youthful virility devoid of any sense of hyper exaggeration or androgyny. case in point brazilian model thiago santos who opened and closed dior homme, the house that under slimane's direction dictated the image of the man of the two thousands.
as the world progressively becomes smaller and sub-cultures that was once hovering in the peripheral continue to exhort its influence and impose its manifestos to the rarified world of high fashion, models like dorian cobb and his untamed afro who symbolizes a hip hop sensibility suddenly seems appropriate during a time when designers are trying to reach as broad an audience as they can.
only time will tell if these new crop of black models can sustain the longevity of their white counterparts. will they be able to transgress and land those high paying ad campaigns or book those highly publicized runway shows or land on those prestigious magazine covers? who knows. but the fact of the matter is that they have a chance. and that might be the most important thing of all. for now at least. happy black history month.