the new millennium was welcomed with an obvious sense of uncertainty combined with a naive sense of optimism that was heartbreakingly shattered by the events of september 11, 2001. almost six years after that catastrophic event, the first decade of the millennium still hasnt established its own identity. if the nineties was personified with severe minimalism and the eighties with obvious excess, the 2000s, appears to be the decade of referencing old ideas and vigorously fighting to make them modern. if there is one common denomination that is present in milan, new york, paris and london, is how those cities and their designers are able to continuously amalgamate a slew of ideas, references, and view points and reinterpret them in their own vocabulary. leading this pack of fashion harbingers are john galliano, miucca prada, nicolas ghesquiere, and the ever influential japanese designers showing in paris. but with the appointment of young designers in revered french houses that revolutionized how women dress in the 20th century, those same houses are now once again the northern star that has again become the compass other designers look to for direction in the beginning of the 21st century. nicolas ghesquiere at the house of balenciaga leads this new modern vision along with albert elbaz at lanvin, stefano pilati at yves saint laurent, olivier thyskens first at rochas and then to nina ricci, ricardo tisci at givency and most recently christoph decarnin at balmain. these young designers, deeply sensitive and humbled by the history of the house they design for, have utilized the spirt of the house and imbued it with their own youthful, and modern experiences to produce creations that are rooted in the traditon of couture but with a new relevance. although paris remains the capital of fashion, in this continuously shrinking world, other fashion capitals are also influencing the tide of fashion. in new york, marc jacobs always manages to deliver perennially young and cool clothes alongside 5th avenue institutes oscar de la renta and carolina herrera. milan of course has the always intellectual prada contrasted by sex vamps seen at versace and dolce and gabbana. and of course the world can always count on london to continue to produce the most extreme ideas alongside tradition. with all these viewpoints and opposite approach, its not surprising that a single idea has not yet captured the attention of all the designers. but who knows, maybe in the future thats what this decade is going to be known for, they just havent found a name for it yet. individualism maybe. well in my opinion, these collections are some of the most defining collections from the past five years (i would done it since 2000 but the only collection really worth talking about before 2002 was prada in 2000 when she launched her lady-like look and hussein chalayans transforming furniture to skirt collection).




GARETH PUGH
spring/summer 2007
although he didnt sell a single thing from this collection, this second show from pugh deserves merit because there is no one else right now that is experimenting with shapes to such a degree that pugh is doing. only time will tell if this toying with shapes and ideas can eventually be translated into wearable garments that will actually fly out of shops, but even if it doesnt, fashion always needs an enfant terriblè. after all, look at galliano and gaultier, former enfant terriblès, now couture designers.



ALEXANDER MCQUEEN
fall/winter 2002
this was the first mcqueen show under the backing of the gucci group. after a sour ending with LVMH, mcqueen, with his new found freedom, proved to his critics that not only can he remain true to his own romantic vision, he can also marry his creativity with commerce. the proof, saks fifth avenue bought almost everything from the collection.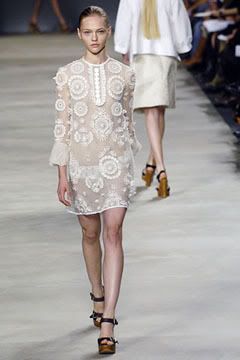 CHLOE
spring/summer 2006
you can blame phoebe philo with her last chloe collection for all the flowy, a-line, smock dresses that have become the most copied dress shape for the past year. her swan song collection for chloe with all the ultra feminine shapes, details and wedge heel shoes hit a nerve with young women all over the world. translated to other variations from her high end contemporaries to the mass produced high street market.



LANVIN
spring/summer 2005
this was the collection that elbaz's vision for the house of lanvin became crystal clear. here he used the colours which would become somewhat of his trademark, namely the pinks and the purples that effeminates the abundance of black he uses in his collections. along with his little cocktail dresses with all the fortuny and madame gres type pleating and draping, alber was at the forefront of the classic couture revivalist movement solidifying at that time, and come to think about it, he still is now.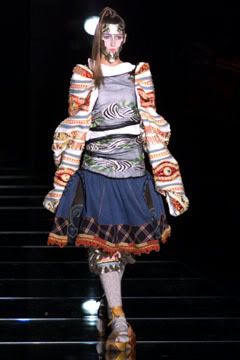 DIOR HAUTE COUTURE
spring/summer 2002
no one cross references ideas, cultures, and inspiration better than galliano. couture has for a while now been criticized for being somewhat outdated, and not modern or functional. but in galliano's hands, couture becomes fashion at its most emotional. gathering ideas from russia, mongolia, the circus and whatever else was in his mad cap head, galliano executed what he does best of all, he brings life to fashion. this is fashion to provoke emotion, something that validates the importance, and relevance of couture.



YVES SAINT LAURENT
fall/winter 2005
stefano pilati received mixed reviews from his first saint laurent collection with his somewhat unexpected use of volume. however, with his second outing for saint laurent, his direction not only became clearer, other designers have begun to follow him too. the now ubiquitous waist defining belt was a result of pilati's way of giving women shape, along with a sharper shoulder and the tulip skirt. although these harkens back to bygone eras, pilati managed to make them modern by adding a little hint of sexuality and gave that sexuality tension by monastic touches. and it is that sexual tension that kept the allure of saint laurent alive all these years.



PRADA
fall/winter 2004
i must admit, i was not a big fan of this collection at all. i prefer prada with her more minimalist intellectual approach. although this collection was not minimal at all, it doesn't mean that it wasn't intellectual. inspired by 18th century paintings and video games, it was obviously been abstracted by prada by the time the first look came out. she continued some of the themes and shapes from her previous summer collection but here she fully flirted with embellishments. and true to prada form, it instantly became the trend that was copied everywhere. why do you think there are rhinestone studs on back pockets of denim. that was miucca, and thank god this phase of hers only lasted one season, because of course, by next season she totally did a 180.



MARC JACOBS
fall/winter 2005
after so many seasons of delivering unapologetically pretty clothes, we tend to forget that marc jacobs was responsible for one of the most controversial collections ever, the grunge collection for perry ellis for spring/summer 1993 that got him fired from that job. for this collection, marc abandoned all the sweetness and 70s references and turned into a darker, more fairy tale like mood rich with volume and texture. around the time of this collection, the idea of volume has already been gaining momentum and it was marc who finally executed it in the most personal way.



BALENCIAGA
fall/winter 2006
during his time, cristobal balenciaga was knows as the designer's designer. for this generation, that title can easily be given to balenciaga's current designer, nicholas ghesquiere. for as long as he's been designing for the house, ghesquiere has always tried to not be too literal with the balenciaga legacy. but after finally gaining unlimited access to the balenciaga archives, nicholas unleashed the timelessness of balenciaga's classic couture cuts combined with a high level of modernity with his use of fabrics and exaggerated proportions. proving that a great design can stand the test of time. and you can't get more modern than that.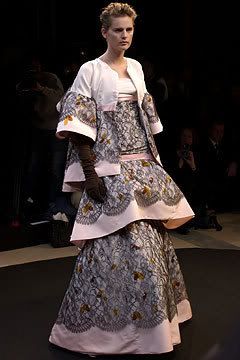 ROCHAS
fall/winter 2003
when olyvier thyskens was appointed to resurrect the almost forgotten house of rochas, many were intrigued to how the young belgian, who has gained notoriety for his avant garde, gothic sensibilites will relate to the brand. without extensive media frenzy or heightened expectations, theyskens surprisingly floored everyone with a collection that created a shift from the current hardness as a result of the new iraqi conflict, to a unexpected ultra feminine mood. at times of war there is a need to escape but also be respectful. theyskens did that by looking at the optimism of post war europe for inspiration. he revisited classic couture ideas that represented the acme of femininity without looking dated. he was aware that women was searching something that was vaguely familiar. what they were searching for was beauty, and he delivered. unfortunately, despite unanimous critical praise, the house of rochas was abruptly closed down in 2006. but fortunately, theyskens has found another house to resurrect, nina ricci.