(left to right; top to bottom)

lara stone - i am like obsessed with this girl's bone structure. she's got this weird overbite and gap toothed smile and a slightly butch lesbian-esqe thing about her face. but what can i say, i love lesbians. and her editorial on the new w magazine is fucking bananas.

daiane conterato - ever since her debut at prada's fall/winter 06 show, this young brazillian has become one of my favorites. she's got that weird, gangly thing about her. kinda like the same thing that first endeared me to stella tenant. there this aloofness and distance that comes off of her. but not in a snotty naomi kinda way. but a "i'm only 16 and i got plucked from my little village in brazil and i can't believe i'm here" kinda way. its cute.

kim noorda - this girl has the sweetest, sweetest voice. at first i wasn't too keen on her. but i was always intrigued by her. well i was just liked how she swings her arms when she's walking down the runway. but when i saw her being interviewed and she was so shy and she had the most angelic voice, she was so cute i just wanted to punch her in the face. out of love of course.

catherine mc neil - the valedectorian of the recent fall/winter collections. this girl came out of nowhere and basically showed up on all the important shows in milan and paris. but jesus christ, look at that face. she looks like a mucha painting. she looks like one of those girls that would hurt too much to look at because in your mind you're thinking "her pores are perfect, mine are probably as big as a dinner plate".

suvi koponen - following the footsteps of daria, gemma, and sasha, suvi was one of the lucky girls plucked from obscurity by ms. prada herself and bestowed the all important role of opening a prada show. and she didn't disappoint afterwards. she's got that strong, scandinavian face. but not your typical blonde scandinavian bombshell, but those brooding, intellectual ones who looks like they read jung backstage while their getting their make-up done.

coco rocha - there's always a canadian girl the fashion world falls in love with. of course there was linda and yasmeen, then came shalom, followed by daria and stam, and now its coco. and after riverdancing it down the gaultier show a few month's back, i'm pretty sure more hearts were warmed to her. at first her overbite kinda irked me, because she seemed like she was pouting all the time, but after her italian vogue editorial i too succumbed to the overbite. oh and apparently anna wintour also succumbed, she's on the new vogue cover heralding "the world's new supermodels".

agyness dyne - she first caught my attention last year with her joan of arc-esque haircut. but then i start seeing more and more of her and she deserves the best dressed award outta all the models here. i think the reason for her success is that she, alongside irina, crystalizes fashion's current obsession for that young, rock and roll, mishmash of cultures and influences look. not only is she a model she's also a musician and fast becoming london's new "it" girl. i mean if henry holland makes a t-shirt out of you, you're instantly an underground celebrity.

freja beha - the great dane of the modelling world who still has the most first exits for the past year. freja is one of those girls that i really can't pinpoint why i like her so much. i mean she doesn't walk very well, and her forehead is kinda big, but then again so is mine, so maybe thats why i relate to her. anyways, what i do like about her a lot is....i really really don't know what it is. maybe thats why she's so succesfull. she just has "it". whatever that may be. good on her.

irina lazareanu - this is the girl who booked the most shows in the history of modelling. she did a staggering amount of shows in her first full collections and she was seen on every major runway from new york to paris. irina's appeal is her authenticity. she doesn't fake it. with fashions current fascination with everything now and young, irina actually lives that life. you can't be more current than co-writing with the infamous pete doherty on a song whose chorus was sung by none other than kate moss. its her life outside of fashion, her passion for music for instance, that becomes the fire the fashion moths gets drawn too. oh and those bangs...can't forget those bangs which has been copied by every downtown girl i've seen.

sasha pivovarova - my most favorite editorial model right now. okay when i see pictures of her on style.com at shows i'm like "girl...you need to put some cucumber on your eye before you go to bed". but god bless the power of photoshop and good lighting because these girl takes the most amazing pictures. i have never seen an editorial with her that i was disappointed or just blasse. perfect example is her editorial for italian vogue with meisel for december '05, i must've look like a rabid dog drooling when i first saw it. oh and she was an art history student...she's my homegirl yo.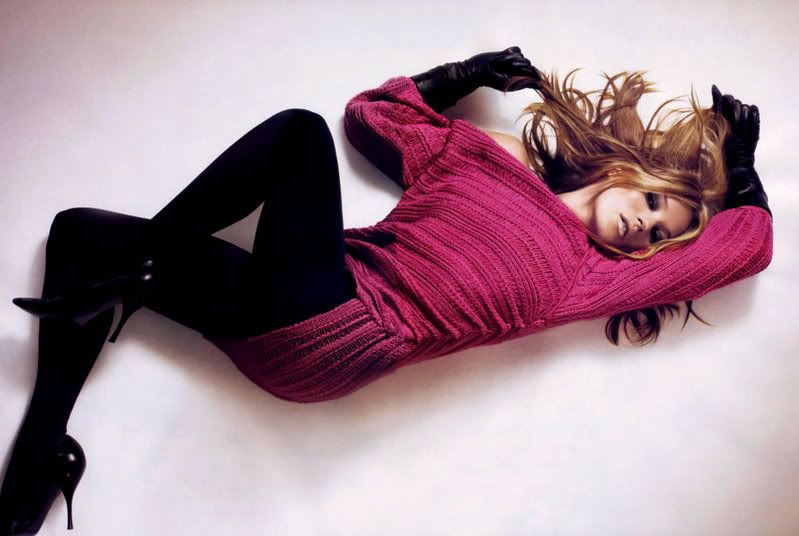 but of course none of these girls can hold a candle close to kate moss.



photo: style.com