well 1996 and 1997 was the year i started an affair with this thing called beer. we're still going strong even though we've been through a lot of things and have changed tremendously. but i digress, i also fondly remember these two years for producing some of my most favorite collections of all time.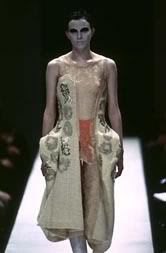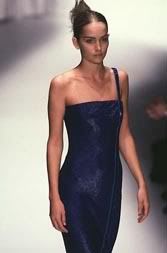 (l-r) comme des garcon f/w '97, calvin klein s/s '96, versace f/w '97, helmut lang f/w '96

comme des garcons- okay ignore the grudge make-up and witness the paradigm of rei kawakubo. asides from the obvious manipulations of western archetypes that she plays around with season after season, here she also manipulates the female dimension. adding padding and sculpting fabrics to exaggerate proportions. an idea she proposed along with vivienne westwood and was recently seen in dolce and gabbana's latest collection.

calvin klein- one of the purest example of calvin klein's mastery of minimalism. here klein was at the peak of his game. pushing the bounderies of minimalism beyond the neutral colour pallete. this is color use and color blocking in a thoroughly modern, rothko like sense with a little '60s mod touches with the square toed shoes and hipster pants. probably one of the best summer collections i've ever seen.

versace- okay i know i've been going on and on with the versace references coming out right now but i mean honestly, who could forget this collection. let's face it, gianni has been guilty with sending out some clothes that were so elborately decorated it verged on being full on tacky, but with this collection he schooled us that he also has the control to send out some of the best party dresses to ever come out of milan. and those chain link dresses, if i was into girls, this collection is a thousand times better than a six year subscription to maxim magazine.

helmut lang- this was helmut's first collection he showed in new york. and him and that city was a marriage like claire and cliff huxtable. they were perfect for each other. i mean this is gotham city, and helmut is like batman's costume designer. there's always been this urban warrior element to helmut's clothes. with their linear silhouettes and futuristic, military vibe, it obviously became the uniform for urban soldiers. and i'm gonna let you in on a little secret, the first time i went to holt renfrew many many years ago, his section was the first place i went to and i saved up all my wal-mart paycheques to buy helmut lang jeans, and when i finally saved enough i rushed to grab them but my size was gone. its been one of my top three fashion regrets of all time. i am so lame.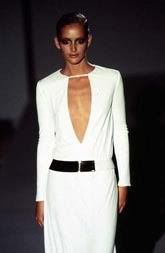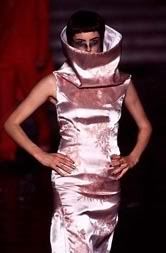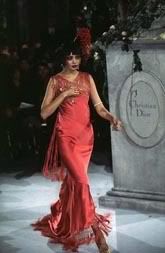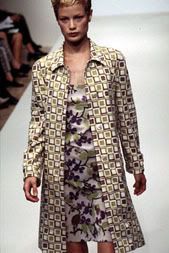 (l-r) gucci f/w '97, alexander mcqueen s/s'97, dior haute couture s/s '97, prada s/s '96

gucci- okay i hate, hate, hate, hate, hate, hate tom ford because i find him so insanely arrogant and conceited but i fucking love, love, love, love, love, love this collection. i mean everything about this collection was fucking brilliant. from the golden eye make-up, those velvet pant suits, the military elements and those white jersey dresses with gold buckles...arghhhh....its too much. and also, all my favorite models were present at this collection. oh guinevere van seenus...where are you????

alexander mcqueen- this is the collection that propelled mcqueen to the upper echelons of the fashion world. this was the collection that started the magnificent sense of theatre that is consistent to all of his shows. i remember when i used to tape every episode of fashion file, fashion television, and style with elsa klench and i would watch this collection over and over and over again. this is the first time i finally got mcqueen's romantic vision. however scary and twisted some of it can be, there's always that underlying sense of beauty because you can see how much of it he puts into his work. its almost like his passion is so heart wrenching that it pulls you in and it holds you, even after ten years.

christian dior haute couture- john galliano has been guilty of givng the world more than its share of fashion moments, but his first collection for house of dior, positively shook the world. celebrating monsieur dior's 50th anniversary of the infamous "new look", john lived up and exceeded anyones expectation with his first collection, with the added pressure that it was also a couture collection. here john showed everyone his mastery for romantic ideas, multi-cultural influences, and a high sense of drama. the dress i posted is my favorite dress of all time. i am absolutely in love with that dress and i've said this to my friends, when i have enough money and i finally buy my own place, i am not gonna have any furniture besides a bed and a mannequin at the middle of my house wearing that dress. and i'm fucking serious.

prada- in my opinion, this collection is the most influential collection to have come out in the last decade. the press named this collection "geek chic", but it was much more than that. it challenged the idea of what is beautiful because she intentionally showed patterns, colours, and cuts that nobody after the 70s thought was beautiful. this collection was shown at a time when even minimalism was pretty and clean, and at the other end was versace's and gucci's ultra glam, ultra sexy look and it totally changed the direction of fashion. one has to wonder, without this collection, where would marc jacobs, chloe, or marni be? companies that have made a profit out of making best sellers out of whimsical, off beat pieces. makes you wonder how she's gonna change the way we dress again. oh wait she already has, like at least 3 times already after this collection.


photo: firstview.com