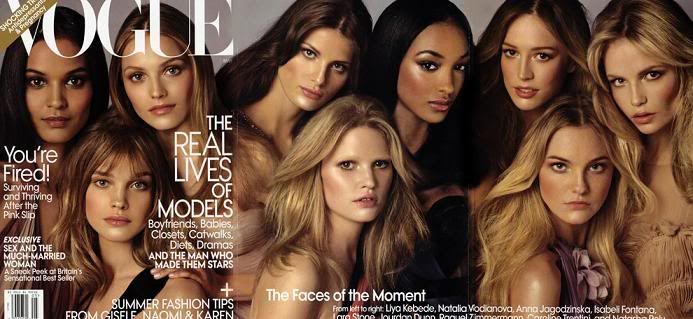 to coincide with new york's metropolitan museum of art exhibition entitled "model as muse: embodying fashion", american vogue featured nine of today's most in-demand models to grace its may cover. unlike its european sister publications, american vogue has for the past few years opted to use celebrities instead as the vehicle to push newstand sales and has only occasionally fronted the issue using models. which is quite puzzling since it was american vogue who in many ways fed the supermodel phenomenon during the early nineties. who could ever forget vogue's one hundred year anniversary issue exactly seventeen years ago with a landmark cover that featured the ten supermodels that defined that era (linda evangelista, christy turlington, naomi campbell, yasmeen ghauri, karen mulder, tatjana patitz, elaine erwin, cindy crawford, nikki taylor, and claudia schiffer). and it wasn't just the perfect amazonians who was given the honor being the face of the magazine. atypical nineties models such as stella tenant and kristen mcmenamy proved their commerical flexibility with the support of vogues editorial forces. but as the nineties turned into the two thousands and the influence of celebrity culture were becoming more and more pronounced, fed by the public's curiosity and obsession, many american publications, including vogue, saw themselves fighting over newstand sales and using hollywood's hottest stars as their ammunition.
as a result of featuring personalities not closely affiliated with the fashion world the readership of vogue expanded to include readers not interested in fashion, but with the celebrity wearing the clothes on the cover. this shift in readership had a huge impact on the publication. where once it was a beacon for directional fashion, to adapt to its new customers the material inside the magazine became more commercial to the point of banality. editorial spreads had a more noticeably toned down imagination usually featuring looks straight off the runway, absent of any individual stylistic touches.
across the pond however, vogue's european sisters, most notably vogue italia, vogue paris, and the newly launched vogue russia started to build a reputation as three of the most influential monthly fashion publications. with its more forward direction and avant-garde sensibilities, franca sozzani of vogue italia, carine roitfeld of vogue paris, and aliona doletskaya of vogue russia became the three most influential women in fashion. able to launch a model's career to the stratosphere just with a cover. as was the case with daria werbowy, jessica stam, and coco rocha's steven meisel lensed vogue italia covers and most recently, a whole issue devoted to lara stone for vogue paris.
the tide however might be beginning to change. the general interest concerning celebrities is finally appearing to subside. perhaps these troubled economic times has the public worrying too much with their own problems that they don't have time to take on someone else's affairs. what they could use right now though is a little bit of fantasy. as marvelous actors are at emoting their feelings on the moving screen, no one can make pictures as transcendent like only models can.
photo: steven meisel for vogue