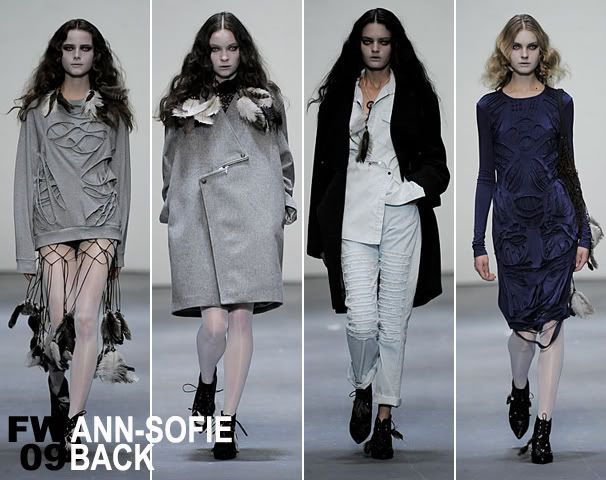 over the past few years, the horror and gothic genre have been one of the most influential force in fashion that is not segregated to one fashion capital. paris has rick owens and ricardo tisci. miuccia prada did her own take on the trend with her most recent menswear collection in milan. even in new york, the most commercial fashion capital of all there is rodarte. and in london, where the gothic sensibility was born and has been taken to its avant garde and conceptual heights, there is ann-sofie back. the swedish born designer/stylist who has used the gothic influence as an oeuvre since launching her signature line in 2001. this season there was a much more heightened sense of the macabre in back's collection not only because of the eerie contact lenses the models wore, but also because she noted that her main source of inspiration were cult american teen horror movies such as
friday the 13th
,
carrie
,
nightmare on elm street
, and
holloween
. that translated into slashes and rips on distressed denim and button down shirts. jersey dresses and tops with interesting cut-outs that formed overlapping patterns that resembled marks left by a knife. and lace pieces which hinted at traditional prom dresses, worn by the girls who are favorite targets amongst the silver screen's infamous serial killers. as a stylist that regularly contributes to
dazed and confused
and
self service
magazines, back understands how stylistic touches can fully elucidate a story. the powdered white faces and scary contact lenses might've been over the top, but that didn't distract the obvious point that underneath all that theatricality, there were plenty of beautiful and extremely covetable clothes.
photo: catwalking.com